In Thrill of Love by Melissa Foster, photographer Ty Braden reconnections with fellow photographer Aiyla Bell, who he had previous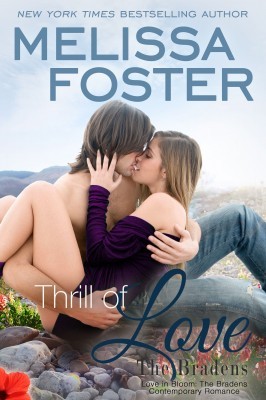 met in Saint-Luc. Before they went their separate ways he asked her to come with him, but she refused. Now both are competing in a five-day multi-sport event held in Colorado. They use the time to really get to know one another, but when time comes to return to civilization, Aiyla is confronted with news neither one was prepared for. As Aiyla faces a journey much harder than their wilderness competition, Ty needs to step up and prove he can be the man to help her through it.
I will start off by saying that I've really enjoyed all the books I've read by Melissa Foster. She's my go-to author for feel good stories, and after each book I always left thinking that it's my new favorite of the series. This time, however, she blew the other books out of the water. Out of all the Braden couples spread throughout several different series, Ty and Aiyla had the most difficult and heart wrenching journey to their HEA.
I admired Aiyla. When things got tough, she didn't hesitate to make a decision that most people would have tried to avoid at all costs. She carefully listened to all of the options available to her and chose the one that wouldn't be the easiest, but would be the best for her in the long run. She doesn't second guess her decision, whereas a lot of people would have. Ty is incredibly supportive of Aiyla and refuses to leave her side even when she gives him an out of their relationship. He refuses to let her go again, and he refuses to let her go through everything alone. I absolutely adored them together.
This can be read as a standalone, although couples from the previous books do make an appearance in this one. Throughout the series, it's clear that family plays a big role, and it's no different in this book. All the Braden's surround Ty and Aiyla with support and love from the moment they meet her, which she wasn't expecting. She quickly learns that being accepted by the Braden's means being accepting into the family.
Readers both new and old to the series are going to love Ty and Aiyla. Their journey is filled with laughter, fear, and tears, but it only makes them that much stronger as a couple. I can't recommend this book enough.
Book Info:

Publication: October 4, 2017 | World Literary Press | The Bradens at Peaceful Harbor MD #6
World-renowned mountain climber and nature photographer Ty Braden never believed in second dates, much less heart-pounding, steal-his-breath love. But that was before a trip to Saint-Luc, where he met funny, strong, and entrancingly beautiful Aiyla Bell, a ski instructor and fellow photographer whose hopes and dreams, and love of the outdoors, aligned perfectly with his–and whose kisses alone turned him inside out.
After spending five magical days and four sweet, soulful nights falling in love, Aiyla couldn't imagine a day without Ty. But when he asked her to go with him on his next assignment, his reputation for having women at his beck and call stopped her from upending the life she'd worked so hard to create.
Months later fate steps in when a chance encounter brings Ty and Aiyla together for a five-day wilderness event held in the Colorado Mountains. Their deep, passionate connection is stronger than ever, and Ty is bound and determined not to lose her again. But when tragedy strikes and their worlds are turned upside down, their love faces the truest test of all.