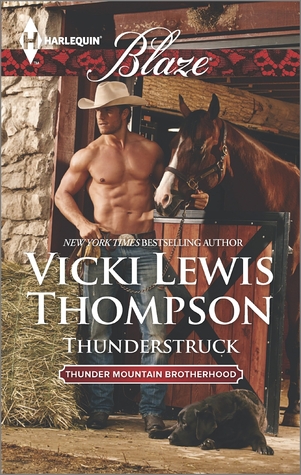 Thunderstruck by Vicki Lewis Thompson: Sometimes we make assumptions and pass judgments before we have all the details. Just a reminder, that can come back to bite you.
Philomena, Phil, Turner was pretty used to having people think she was a guy when they heard her name and that she was in construction. Most of the time it was pretty funny to see their faces when they realized how wrong they were. It was starting to get a little frustrating though that some men thought she would out manly them.
Damon Harrison flipped houses. It was perfect for him, a way to create order, little permanent commitment and he always had a great end product. When his foster parents decided to add another bunk house to the ranch of course he was going to come home to help though. He was excited to come home and they had found another carpenter to work with him so it was going to be an easy trip.
After exchanging emails Damon and Phil knew they were going to work well together, the problem was more Damon didn't realize Phil was a woman and one he would be so attracted to. Would the attraction stand the test of time like the house they were building or would it be the first thing they built to falter?
Ms. Thompson has taken her readers back to the Thunder Mountain Brotherhood with this wonderful novel about overcoming your fears to allow true love to come in. Each of the men in the brotherhood are so damaged and yet she has been able to create a woman and a situation to help them help. This story can be read as a standalone but is definitely better as part of the series and DON'T read the epilogue unless you are prepared to be tortured waiting for the next one in the series. The writing is outstanding, the novel is great and the characters are incredibly realistic. Enjoy this novel but be prepared, the story isn't over yet.

Book Info:

 June 16th 2015 | Harlequin | Thunder Mountain Brotherhood #2
The lone cowboy…
Damon Harrison never gets too involved. A cowboy at heart, Damon has turned his commitment phobia into a living—flipping houses. The only exceptions to that rule? His foster family at Thunder Mountain Ranch. And now those "exceptions" have talked Damon into working on a new project with a carpenter named Phil…
Only, "Phil" is a nickname for Philomena Turner. She has a wicked way with carpentry and an even wickeder way of turning Damon's head. And the chemistry is like a lightning bolt of lust. But Phil wants a family and a home, and no hotshot cowboy—even a tantalizingly sexy one—will change that. All she can steal are a few nights of sizzling passion before she has to set this lone cowboy free…