In Till Death by Jennifer Armentrout, Sasha Keeton is one of very few people who can say she's escaped death at the hands of a serial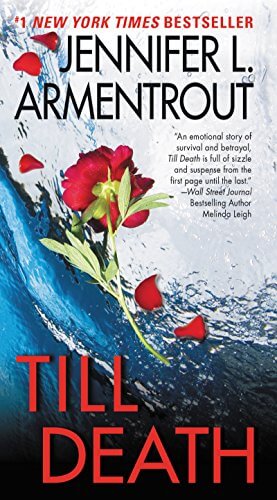 killer. But that's exactly what happened ten years ago when she somehow freed herself from the Groom's grip. Being held captive and tortured obviously changed Sasha and has taken her years to overcome, both mentally and emotionally. And now that her mom needs her to help run the family inn, she thinks she's strong enough to come face to face with her hometown–the scene of the crime so to speak–for the first time in a decade.
'I don't think I'd ever stopped caring for him, and I knew it sounded crazy, because there were ten years between us, but I believed that sometimes you cared so deeply about someone that no matter what happened, you never really stopped.'
But Sasha's homecoming is cut short when a local woman is taken and then found murdered in a manner eerily reminiscent of what happened years ago. And from there the similarities keep adding up. As do the strange things happening to Sasha. So when a man from her past, the only guy she's ever truly cared about, FBI agent Cole Landis, shows up on her doorstep and offers both protection against the unknown and a chance at rekindling their romance, how can Sasha refuse? She's determined to not only remain a survivor, but to keep her family and friends safe against whatever evil is lurking around town and end it for good this time.
"I'm going to keep you safe."
I lifted my gaze to his. "I'm going to keep myself safe." I paused, and I was. I wasn't a fainting damsel in distress. I'd been through the worst, and I would protect myself. I also needed to stop being stupid when it came to accepting protection. "But I'll let you help."
His lips twitched up on one side. "That's my girl."
What a thrilling story Till Death was! Lots of plot twists, a second chance romance, superb friendships, and great dialogue, Jennifer Armentrout was totally in her element here.
"People don't get second chances often, Sasha, but we got one, and I'm not going to let that pass us by."
Now I've been a fan of Jennifer Armentrout's novels for quite some time, especially the Wait for You series she writes under her pen name J. Lynn. So to see her release something completely new such as a suspense slash thriller slash romance? Yes, please. And I'm happy to say that everything I love about her New Adult and Fantasy/Paranormal novels transferred perfectly into this genre. The characters were flawed and real, their reactions were genuine, and of course the storyline itself was interesting.
I will caution readers that as you can tell by the book synopsis, this dealt with some dark topics so be forewarned. There were details regarding women being held captive and abused, some gory scenes about torture and death, and there were even a few passages written from the killer's POV–which was creepy but helped bring about clues as to who was harassing Sasha. Speaking of which, Armentrout did an absolutely fantastic job stringing readers along with guessing who was behind the evil deeds. She had me analyzing every character and hoping I was wrong as I read further into the story. And I'll admit that the final twist at the end was shocking enough that it literally had me gasping out loud.
As for the characters, Armentrout gave us some wonderfully "damaged" people who were down to earth and quite easy to relate to. I loved the relationships she created as well. Sasha and her mom were so sweet and funny together. They made me smile with their cute conversations and how protective they were of each other. Sasha's best friend Miranda was terrific and simply a hoot to get to know. She was caring but didn't take any attitude from anyone and was fiercely loyal to Sasha. And then there was Cole. *dreamy sigh* What. A. Guy. He was kind of the ultimate hero. He fought for what was right and helped Sasha see what they could have again together. He was sexy as all get-out. And Cole didn't downplay what Sasha had been through, instead letting her work through her emotions and fears and supporting her the whole way. He was definitely a keeper! 😉
Till Death will be sure to get your pulse racing with its exciting plot and have you empathizing with Sasha's torturous past, all while hoping for a happy future for her and her loved ones. Highly recommended.
Book Info:

Publication: February 28th 2017 | William Morrow |
In New York Times bestselling author Jennifer L. Armentrout's gripping new novel, a young woman comes home to reclaim her life—even as a murderer plots to end it. . .
It's been ten years since Sasha Keaton left her West Virginia hometown . . . since she escaped the twisted serial killer known as the Groom. Returning to help run her family inn means being whole again, except for one missing piece. The piece that falls into place when Sasha's threatened—and FBI agent Cole Landis vows to protect her the way he couldn't a decade ago.
First one woman disappears; then another, and all the while, disturbing calling cards are left for the sole survivor of the Groom's reign of terror. Cole's never forgiven himself for not being there when Sasha was taken, but he intends to make up for it now . . . because under the quirky sexiness Cole first fell for is a steely strength that only makes him love Sasha more.
But someone is watching. Waiting. And Sasha's first mistake could be her last.