'Tis The Season by Robyn Carr is a charming collection of two classic Virgin River Christmas stories and an additional novella thrown in for good measure. What better way to spend a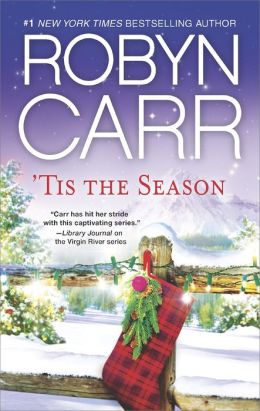 chilly night then with some familiar literary faces while reading heartfelt romance?
Under the Christmas Tree: In this cute & cuddly short story, Annie McKenzie's quick stop to see the Christmas lights in Virgin River ends up changing her life forever. Finding puppies abandoned under the town Christmas tree, Annie meets the new vet, Nate Jensen, when he assists her with their care. But Nate has more than saving the puppies on his mind. He wants to make Annie his own. Now if he can just convince her that his intentions are honest.
"Are you coming back tomorrow after work?"
"Are you going to be a gentleman?" she asked.
He lifted one of those handsome brows. "You want me to?"
No. "Absolutely. Or I'm leaving the puppies all to you without helping."
I got a kick out of Nate's dry sense of humor while he was attempting to date Annie in this story. They had both been through break ups in the past and were looking for something real and honest this time around. I absolutely loved that Nate didn't want Annie to change a thing about herself and how he loved that she was a farm girl at heart. Sounds like the perfect match for a vet, to me! Their HEA was such a joy to read–equal part humorous and heartwarming.
Midnight Confessions: New Year's Eve is going to be a challenge this year, considering Sunny Archer was left at the alter one year ago tonight. Her Uncle Nate and soon-to-be Aunt Annie try to cheer her up, taking her to Jack's Bar for a New Year's bash. But her heart isn't in it. So when Drew Foley introduces himself, Sunny unceremoniously brushes him off. Drew can't explain his need to get to know Sunny-with-the-not-so-sunny-disposition. He's determined, however, to make her smile before the night is over.
"Sunny, all I want is to know more about you, to know if there's an upside to our mistakes–like maybe the right ones were meant to come along just a little later. I'd hate to stomp on a perfectly good spark if it's meant to be a big, strong, healthy flame."
This short story is probably my favorite of the bunch. Sunny and Drew were young but had already known heartbreak and loss. I really loved that Drew went out of his way to try to make Sunny smile and laugh after seeing her down-in-the-dumps. It didn't matter if he had to be goofy, he'd do it just to see her face light up. To me, the best part of this one was the dialogue. Sunny and Drew were fun together, but at the same time, they helped talk each other through their emotions over their respective break ups. That was very touching to watch, seeing them heal before our eyes. *sigh*
Backward Glance: When John McElroy and Leigh Wainscott went their separate ways five years ago after a secret summer romance, neither one thought they would ever reunite. But they've both carried feelings for each other, and secrets, all this time. So when Leigh moves back to Durango to be with her mother, John becomes involved with her mother's landscape remodel, and Leigh's life again. Will they find romance together once more ? Or are they destined to fail at love?
"I want you in my life. I can't stand when you're not in my life. I want to know if we can make it work."
This second chance romance had a nice dramatic flair to it. It's not really a holiday story, but it still fits in nicely with the overall feel of the collection. John and Leigh were certainly a case of opposites attract, what with John being a very athletic, laid-back guy, and Leigh being a genius who was both frenetic and forgetful. I had to chuckle when the widows' brigade tried their hands at matchmaking with these two. There was already enough chemistry between John and Leigh. It was the day-to-day stuff that got in the way. So it was almost like a fun soap opera watching this story play out. I hope you'll enjoy their HEA ending as much as I did, too! 😉
Overall Thoughts: I've really enjoyed the long-running Virgin River series over the years. And it was fun to spend some quality time with the lovely townspeople this holiday. I liked all three of the short stories in this offering, especially their positive messages. These were definitely the warm & fuzzy type of romances–not that each couple didn't have obstacles to overcome. But Robyn Carr gave us interesting, down-to-earth characters that showcased her ability to create unique, but endearing, love stories that anyone can understand and appreciate.
Book Info

Published November 1st 2014 by MIRA
Together for the first time in one volume, two classic holiday stories—plus a bonus novella!—from #1 New York Times bestselling author Robyn Carr
'Tis the season for family, friendship and the thrill of a holiday romance…
Under the Christmas Tree
With snow falling over the redwood forests, secluded Virgin River is the ideal place to spend the holidays. Each year, the close-knit community gathers in the town square to decorate and light a massive tree. Carols are sung, hot chocolate is shared—and a surprise left under the Christmas tree is about to bring two special people together!
Midnight Confessions
Holiday kisses don't end with Christmas—there's still the New Year's Eve party at Jack's Bar to attend. Locals and newcomers alike find themselves eager for that special countdown…and that midnight kiss.
So join us in Virgin River this year, where Robyn Carr's trademark humor, warmth and sincerity will have you celebrating the festive season in your favorite mountain town.the festive season in your favorite mountain town.