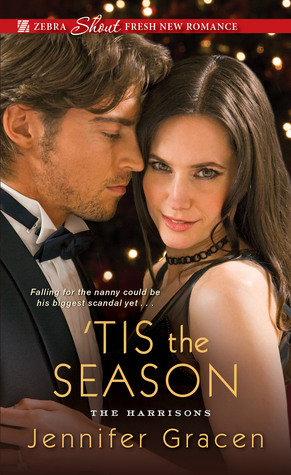 'Tis the Season (The Harrisons #3) by Jennifer Gracen is another amazing addition to The Harrison Series. I have read each book in this series and have loved each and every one of the characters. I think that this book was my favorite so far. Even though it is the third book in the series, it can be read as a stand alone book. This is the story of Charles and Lisette.
Charles Harrison the III has been groomed all his life to take over the family business. The good son, the reliable son, the CEO of Harrison Enterprises. A divorced father of 3, he tries to give his kids what they need, but there is never enough time in the day. Finding time to spend with his family and the obligations of running a company leaves Charles tired. With his 40th birthday comes realizations that his children hate him, that he is turning into his father and that he needs to make some changes in his life. Throwing himself a pity party for one, drinking too much, he does the unthinkable, he sleeps with the nanny, the sexy, desirable, Lisette Gardner.
Lisette Gardner has had alot of pain in her life. She lost her mother to cancer at an early age, she lost her unborn child in a car accident that almost killed her as well. Her fiance left her, and she is day by day watching the father that has been her rock slowly slip away to early on set Alzheimer. Having no family left, Lisette feels like a part of the Harrison family. She loves the children and has a bit of a crush on her boss. When they have a hot roll in the sheets, Lisette if afraid that he is going to fire her.
When Charles breaks through Lisette's walls and convinces her to give him a chance, give them a chance, she is afraid. He is Charles Harrison the III, if word got out, he would survive, but she would be ruined. When Charles brushes her fears aside and goes full steam ahead, it causes Lisette to panic. When Lisette over hears the gossips ridiculing her, when Charles Harrison the II shows up at the door and offers to pay her off, and when ex-wife makes an appearance, causing problems for Lisette, she does the only thing she can, she runs. Charles will have to slay some dragons and ride to the rescue before he looses the best thing that ever happened to him, before he looses the woman that makes him a better man.
I loved the connection between Charles and Lisette. I love how protective Charles is of Lisette. He fights his ex, he fights his father, heck he would take on the world to keep Lisette from being hurt. There is a little surprise and a secret twist to the story that is truly a Christmas Miracle, and it makes this story all the sweeter. I cannot wait to see what happens in the next book, because we have a sister who needs to find her HEA and if it is anything like the last 3 books, it will be brilliant.

Book Info:

 Expected publication: September 27th 2016 | Zebra Shout | The Harrisons #3
As the eldest son of the illustrious Harrison clan, Charles Harrison the III has always done the right thing. With his family's legacy to uphold, he can't afford a scandal, even if temptation is living right under his roof. His well-publicized divorce was a disgrace, so Charles is sure an affair with his bewitching nanny would bring his family even more infamy. And yet, he can't resist the alluring Lisette . . .
With her usually reserved boss sending her heated looks, Lisette Gardner is in a bind. The nurturing nanny has always loved the eldest Harrison from a distance. But coming from a vastly different world, with a painful past that still haunts her, Lisette is determined to resist Charles's advances. Because Lisette can accept nothing less than forever with Charles . . . and forever might be too much to hope for with the reigning prince of the Harrison clan.