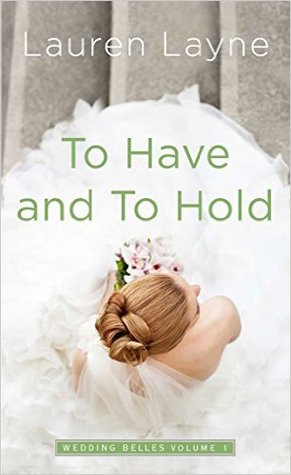 To Have and to Hold by Lauren Layne: After moving to New York to work for the premier wedding planners, the Wedding Belles, Brooke needs this new beginning to go well so that she can prove herself after a disastrous ending to her own wedding. But when her first client has a brother, Seth, who doesn't trust the groom and will do what he can to halt the wedding, it looks like Brooke is going to have plenty of trouble with her new start. To make it worse, her attraction to Seth was instant.
Neither can get the other off their mind. Seth, with tight control of his own life and those in it, tries to get Brooke on his side to watch over his sister and her groom, but his ulterior motive is to spend more time with the bewitching Brooke.
Even as Brooke begins to find friends and happiness in her new life, she refuses to face her past hurts. And Seth, in his desire for control, tries to control a future with Brooke, their desire for one another might not be enough.
Seth leaned toward her slightly, his smile devilish. "Why, Ms. Baldwin. Have you been researching me?"
"I research all my clients," she answered in a clipped voice.
His smile only widened. "What was it that you wanted to know?"
I love Lauren Layne's books and To Have and to Hold was no different. Likeable characters with real issues, Brooke and Seth were perfect together and completely endearing characters. So often Seth had me swooning and groaning at his mistakes. He just wanted what was best for those around him, even if it meant going about it the wrong way.
And Brooke, I felt for after having gone through what she did with her con man ex. But she eventually found her way, during which she found a love she could trust in. Seth was always there for Brooke when she needed him and in turn she loosened him up.
I'm most definitely looking forward to the others in the Wedding Belles series. A great community of women I want to follow, I highly recommend To Have and to Hold.
Book Info:

 July 26, 2016 | Pocket Books | The Wedding Belles #1
USA TODAY bestselling author Lauren Layne is the "queen of witty dialogue and sexy scenes" (Rachel Van Dyken)! Now, Sex and the City meets The Wedding Planner in The Wedding Belles, her sizzling brand new contemporary romance series about three ambitious wedding planners who can make any bride's dream come true…but their own.
Discovering her fiancé is an international con man just moments before they exchange vows devastates celebrity wedding planner Brooke Burke's business—and breaks her heart. Now a pariah in Los Angeles, she seeks a fresh start in New York City and thinks she's found it with her first bridal client, a sweet—if slightly spoiled—hotel heiress. Then she meets the uptight businessman who's holding the purse strings.
Seth Tyler wishes he could write a blank check and be done with his sister Maya's fancy-pants wedding. Unfortunately, micromanaging the event is his only chance at proving Maya's fiancé is a liar. Standing directly in his way is the stunning blonde wedding planner whose practiced smiles and sassy comebacks both irritate and arouse him. He needs Brooke's help. But can he persuade a wedding planner on a comeback mission to unplan a wedding? And more importantly, how will he convince her that the wedding she should be planning…is theirs?