To the Edge by Anna del Mar is book two in the At the Brink series and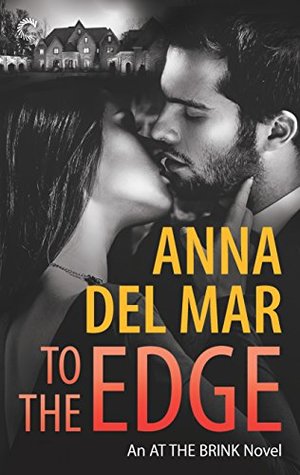 will enthrall readers from the very beginning!
Clara is organized and used to being in control. This piece that she is writing for her blog will take her out of her comfort zone and into submission land. Even though Clara has no experience what so ever in the BDSM lifestyle, she's agreed to write an article on the topic. She needs to be able to write what she knows and makes plans to meet up with a guy who will introduce her to some of the kinky aspects. Too bad for Clara that it doesn't quite go as planned.
Noah is an intelligence analyst. He's also former Navy and can no longer leave the comfort of his home. He has severe PTSD and a form of agoraphobia which keeps him inside. Going outside makes him anxious, among other things. When Noah sees a fire from his cottage, he makes the brave move to play hero. What he doesn't expect to find is the woman he loved fifteen years ago in a cage, tied up.
"You were never one to play it safe, but now you're being reckless. Don't say I didn't warn you. I tried, but I can't say no to you."
Clara insists are writing her article and the obvious answer to her problem is to let Noah teach her. Turns out Noah knows all about the lifestyle and can teach her all she needs to know. It should work out great as long as their feelings for each other stay hidden.
Noah never forgot Clara and vice versa. They had plans to be with each other forever, but people got in the way of their love and threw a monkey wrench into their plans. With Clara submitting to Noah, there is bound to be many emotions between them and it's only a matter of time before it all comes out. But nothing is quite that easy. Noah still has problems going outside and Clara is hiding a secret that could change everything.
To the Edge has many dimensions to it, which includes a story beyond the romance that is engaging in its own right. The suspense aspect of the story is done well and the characters make for a worthwhile read. Noah is the very definition of alpha and even though Clara isn't your average submissive, her sassiness and love for Noah will endear her to you. If you enjoy scenes with BDSM or that is erotic in nature, you will love this book!

Book Info:

Publication: November 14th, 2016 | Carina Press | At the Brink #2
To learn about kink, she had to learn the ropes. Yet she never expected to be so compromised she'd need rescuing. And by him. The first man she'd ever loved. The former navy SEAL who'd broken her heart.
Clara's gone wild.
Naked. Cuffed. Caged. Is this the sweet senator's daughter I left behind?
I didn't know it was her when I rushed into that room filled with flames, but I'll never let her go again.
She's proposed a unique way to thank me. It could bring us both to the edge of ecstasy—or to the point of no return.
Clara wants to submit. To me. Totally. Damn any limits. The very thought of it has brought me back from the dead.
But a stranger is watching from the shadows. He's made us his fantasy. And he plays rougher than I do. Where he's taking us now is somewhere so dark, and so dangerous, that this time it could be inescapable.