To Win Her Heart by Mackenzie Crowne: Jessi has wanted Max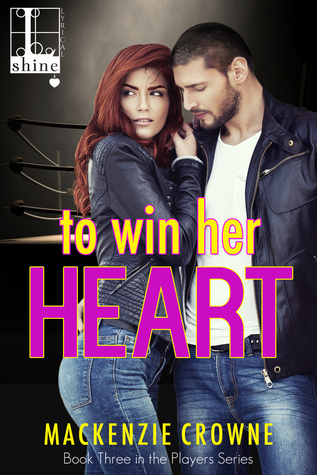 when she first met him five years ago, but he only seems to ignore her. But when she sees an opportunity to get her family off her back and Max to notice her as more than her brother's friend, Jessi jumps at the chance.
For years Max has forced himself to ignore Jessi and the desire in her eyes because he's wanted her just as badly, only he refuses to touch the innocent and sweet Jessi. But when her family convinces him to take her up on her offer, he's finally forced into close contact with the one woman who won't let him resist her anymore.
As they finally both get what they want, trouble and lies lurk in the background ready to tear apart their new relationship.
He drew her closer.
"Making sure your plan works."
Her world tumbled as he covered her mouth with his. Stunned pleasure liquefied her limbs. With her fingers clenched in the soft material of his sweater, she held on for dear life.
I really enjoy Mackenzie Crowne's stories. They're hot and sweet and I can feel the yearning. Both Max and Jessi truly grew, I felt, throughout To Win Her Heart, as they came together and forced one another to see the truth.
Jessi annoyed me at times with her stubbornness, but overall I appreciated her never give up attitude and definitely her seduction and calling Max's bluff. Max, too, is lovely. I'm tired of the not-good-enough-for-her plotline, but even so, I thought there was some interesting back story for Max and I don't feel his insecurities were too overbearing.
I highly recommend To Win Her Heart, same with the previous two in the series although this can be read as a standalone. With a country music sweetheart and a martial artist, this book is for a variety of readers.

Book Info:

Publication: April 12, 2016 | Lyrical Shine | Players #3
In order to protect her, they'll both have to let their guards down…
Country music's It Girl Jessi Tucker is fed up with her family's stifling security measures. The threat of a dangerous stalker has gotten the men in her life—including her football star cousin, Tuck Tucker—monitoring her every move. To get the freedom she yearns for, Jessi hatches a plan to recruit Max Grayson, Tuck's sexy brawler best friend, to play the role of her new boyfriend. But if her scheme works, will she be forced to hide her true romantic feelings for the sake of her independence? Or will she finally steal the heart of her dream man?…
Max has been pining for Jessi for years and would do anything to protect her, but a professional cage fighter with too many skeletons in his closet has no business being with one of America's sweethearts. Yet while Max does his best to keep Jessi at arm's length, the Tucker family persuades him to accept her offer.
Max believes he can keep Jessi safe from danger, but can he shelter her from his own dark secrets, the media's unforgiving spotlight—and a mutual desire that's harder to resist each day…