To Win Her Trust by Mackenzie Crowne: Having a panic attack in the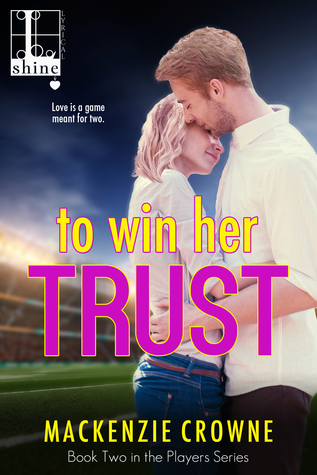 middle of a New York City sidewalk is definitely an interesting way to get your first kiss. CC Calhoun suffers from panic attacks, but when wide receiver Tucker kisses her to distract her, CC shocked by how well it works.
Wanting to further her goals in escaping fear, caused by an incident when she was younger, CC gets it in her mind to use a man, and his kisses, to help her. Tuck is all too happy to be that man, unable to get the sexy and reclusive artist out of his mind.
With a time limit on their romance, neither one expects the passion and trust to grow between them. But when her father gets involved and they're both too scared of what's bloomed between them, can they defeat their fears?
A helpless shake of her head was the best she could manage. She opened her mouth and gulped like a grounded fish.

"Aw, hell." He dipped his head and covered her mouth with his.
Shock did the job her breathing technique couldn't. Suddenly, a sweet, healing breath filled her lungs. Tasting of coffee and spice, he sucked and nibbled at her lips, and her eyelids fluttered shut.
I loved To Win Her Trust. They're both strong characters and always the perfect fit. Honestly, it's so close to being a cliché, with the virgin and the footfall playing ladies' man, an agoraphobic artist, but Crowne blended it all together perfectly with character depth.
Her artwork was a focus of the story, more so than his football, and I loved it because it was fascinating. Her struggle with her art and freeing herself from her burdens. His desire to help and protect her, along with his more lustful desires, was a joy to read. I loved him so much, especially for CC.
The second in a series, To Win Her Trust can be read as a standalone, although I highly recommend you get the first because I am, too. For any reader wanting a football and an artist with a perfect connection, I highly recommend Crowne's newest.
Book Info:

Publication: January 5, 2016 | Lyrical Shine | Players #2
Can she trust this player with her heart?
Ever since experiencing a childhood trauma, reclusive artist CC Calhoun has suffered from panic attacks. But when a fateful kiss from handsome wide receiver, Kevin "Tuck" Tucker, is enough to stop one of those episodes cold, she wonders if guarding her heart has been the right choice. Will going on a test date with Tuck open her to trusting someone for the first time in years? Or will she wind up being just another notch in the football player's bedpost?
Tuck has a reputation for charming women into bed, but after his kiss with CC, he's left aching for more. When he proposes a second date, his attraction to the sexy blonde looks like the makings of true love—something he's never quite believed in—until now. But when Tuck discovers CC's childhood secrets, will the pro athlete be tough enough to stay by her side—or will he betray her hard-earned trust?