Too Beautiful to Break by Tessa Bailey is the final book in the Romancing the Clarksons series and this author wasted no time in piling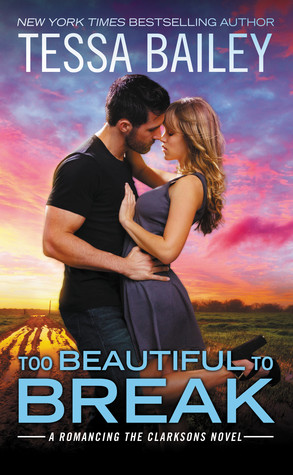 the emotions on. For those who are familiar with this series, this is Belmont and Page's story. I've been looking forward to Belmont's story from the very start and this author did not disappoint!
Sage realizes that she needs to put some distance between her and Belmont. They both turn to each other for comfort and she thinks they need to stand on their own. Sage also has it in her head that she needs to return home and deal with her family she left behind. Her life back home is completely different from what it is now. When she finally gets back home, things get interesting.
Belmont needs Sage and he's not leaving without her. He's willing to do anything for her and it shows. She calms him and because Belmont is a complex character, he needs the warmth and comfort only Sage can offer. Both characters have pieces of them that are broken, but when they are together, they are whole. Sage and Belmont are meant for each other. They both bring something to the relationship that the other person needs.
Too Beautiful to Break, is an epic romance filled with emotionally charged characters that you can't help but root for. Belmont and Sage kept breaking my heart, but this author managed to put it to rights by the end of this wonderful tale. The series itself as a whole, was one wild ride that I would recommend to anyone.
Book Info:

Publication: September 26th 2017 | Forever | Romancing the Clarksons #4
A love of a lifetime . . .
Leaving Belmont Clarkson is the hardest thing Sage Alexander has ever done. From the moment they met, she knew Belmont was the one, and getting up close and personal with him on his family's epic road trip has taken her desire to a new, even hotter level. But there's no way she can go there—not without revealing secrets that could devastate them both.
Losing Sage is not an option. Belmont's heart is hers, has always been hers. He knows she's hiding something from him, but nothing will stand in his way of telling her just how much she means to him. Finding her is easy—saving her from her past could cost him everything.