Too Hard to Forget by Tessa Bailey is book three in the Romancing the Clarksons Series and the series itself revolves around four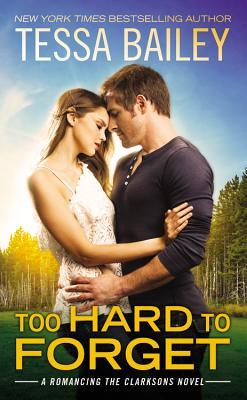 siblings going on a road trip trying to fulfill their mother's last wishes.
In the previous two books, two of the siblings found love on the journey and in Too Hard to Forget, it's Peggy's turn. Let me start off by saying I really enjoyed the previous two books in this series, but was never excited for Peggy's story. I figured hers would be the one, I loved least. Oh man, how wrong I was! Peggy's story is EVERYTHING!
Peggy Clarkson returns to her alma mater to confront Elliot Brooks. After all, he's the reason why she can't move on from him. She's had four fiancées but could never say I do, and it's linked to her relationship with Elliot. She figures she's will remind Elliot of what he lost and then she will finally be allowed to move on with her life. What she doesn't count on is the passion that still looms between them.
I loved Peggy in this story. She has many layers to her and her true identity has a chance to shine in this book. Tessa Bailey fooled me with Peggy's character. If you've read the previous two books, Peggy comes across as a party girl, kind of flighty, and without a care in the world. It's not until she catches up with her past, that we are able to see the real her. Peggy is genuine, vulnerable, and selfless.
Elliot is a hard man. He's a religious one, as well, and that comes through the story a lot. He fights with himself more than he should, trying to always do what's right, instead of what he wants. Peggy is his weakness! But being with Peggy is not as wrong as he believes and it's not until he's almost lost her that he realizes what he's done to her and to them. They have many issues they need to get past if they want a future together. Four almost marriages, Elliot's daughter, and Elliot's inner struggle, but it all makes for one heck of a read!
There are many secondary characters that add to the story. You will love Alice (Elliot's daughter), enjoy the Tate family, especially Kyler, and of course Belmont, the fourth sibling who desperately needs his happily ever after. Too Hard to Forget is an amazing story that no one should miss out on! This is going on my keeper shelf and I foresee many re-reads in my future! If you love contemporary romance, you NEED to read this one. Suffice to say, this is one book that I won't be forgetting! Highly recommend!

Book Info:

Publication: April 25th 2017 | Forever Yours | Romancing the Clarksons #3
This time, she's calling the shots.
Peggy Clarkson is returning to her alma mater with one goal in mind: confront Elliott Brooks, the man who ruined her for all others, and remind him of what he's been missing. Even after three years, seeing him again is like a punch in the gut, but Peggy's determined to stick to her plan. Maybe then, once she has the upper hand, she'll finally be able to move on.
In the years since Peggy left Cincinnati, Elliott has kept his focus on football. No distractions and no complications. But when Peggy walks back onto his practice field and into his life, he knows she could unravel everything in his carefully controlled world. Because the girl who was hard to forget is now a woman impossible to resist.