Too Wild To Tame by Tessa Bailey is book two in the Romancing the Clarksons Series and can be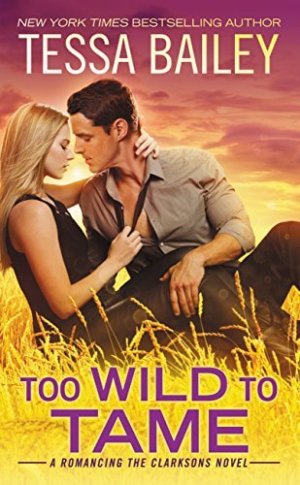 read as a standalone. If you've read the first book, Too Hot to Handle, then you know the siblings are on a road trip trying to fulfill their mother's dying wish on New Year's Day. Rita found her happily ever after in the first book, now we have Aaron, Peggy, and Belmont left.
Grace Pendleton is the Senator's daughter and she's also the black sheep of the family. With her father running for president, she's hidden awaylike a prisoner and not allowed to cause any trouble for him. Grace is very unique. She sees the good in things and lives for moments. She also holds herself back, but with Aaron, it's different.
Aaron Clarkson is the man with the plan. He messed up pretty big and now his career is over. He needs to get the Iowa Senator, Glen Pendleton, to hire him and put him to work on his campaign. When he finally reaches his destination Aaron encounters a strange woman coming out of a window. The woman ends up being a game changer, one he never saw coming.
"You think I have the ability to look at you and remember anyone from before? Before Grace?"
Grace and Aaron's attraction to each other is instant and fierce. Both of them couldn't be more opposite from each other and there are reasons why they shouldn't give into their attraction. Grace is unlike any other woman Aaron has come across. She deserves the best and he doesn't do relationships. Both characters have a past, one, more damaging than the other, but still problematic for the relationship. Not to mention, it's never really okay to sleep with the boss's daughter. Grace and Aaron put up a good fight, but in the end, lust wins out.
Aaron wasn't my favorite character. Don't get me wrong, he's hot and has a filthy mouth that I wouldn't mind listening to, but he lacks scruples. Of course, he is a politician, so he's perfect in that sense, but the reason why he was fired and needed a job with Grace's father, made me think less of him. Thankfully, he grows throughout the story and being with Grace changes him for the better.
Overall, Too Wild To Tame is an enjoyable story with many likable qualities. The characters are distinctive and the story is well-written. Can't wait to read the next book in this fascinating series!

Book Info:

Publication: September 6th 2016 | Forever | Romancing the Clarksons #2
Sometimes you just can't resist playing with fire . . .
By day, Aaron Clarkson suits up, shakes hands, and acts the perfect gentleman. But at night, behind bedroom doors, the tie comes off and the real Aaron comes out to play. Mixing business with pleasure got him fired, so Aaron knows that if he wants to work for the country's most powerful senator, he'll have to keep his eye on the prize. That's easier said than done when he meets the senator's daughter, who's wild, gorgeous, and 100 percent trouble.
Grace Pendleton is the black sheep of her conservative family. Yet while Aaron's presence reminds her of a past she'd rather forget, something in his eyes keeps drawing her in. Maybe it's the way his voice turns her molten. Or maybe it's because deep down inside, the ultra-smooth, polished Aaron Clarkson might be more than even Grace can handle . . .