In Torn by Cynthia Eden, Victoria Palmer is paired up with fellow LOST agent Wade Monroe to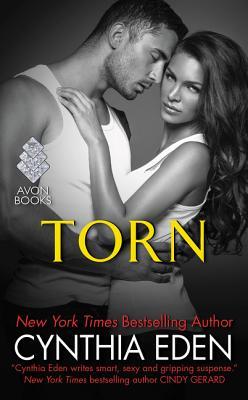 find a woman that disappeared five years ago. After suffering a childhood in which her father killed her mother and threatened to kill her as well, Victoria is afraid to fall in love. She only wants relationships with no strings attached for fear that she could turn into her father.
And Victoria had one rule when it came to her lovers–no ties. No emotions. Not ever. Wade wouldn't understand that rule. She'd seen how dangerous love could be. Love had ripped apart her family. Love had sent her father into a killing fury.
Wade doesn't understand Victoria's insistence of no-strings, but he agrees to play along until he can convince her to accept more. He's able to gradually break down her walls and understand why she is the way she is. He's able to get her to open up in a way no else ever could.
"You make me happier, you make me feel…free. And I know that's crazy, but when I'm with you, I don't have to hold back. I can just be…" Her voice dropped to a whisper."…me."
When the woman they were sent to Savannah turns up dead and another woman disappears under similar circumstances, Wade and Savannah have to beat the clock to find her before she meets a similar fate. When murder turns his attention to Victoria, Wade becomes determined to protect her by any means necessary.
Cynthia Eden has created a wonderful story filled with suspense and mystery. Just when I thought I had figured out who the murders were, she throws the readers for a loop and surprises us with another unexpected suspect. I really enjoyed the unexpected twist.
This is the fourth book in the series. I haven't read the previous books, so I'll admit there were a couple of times I felt like I was missing a little bit of Victoria and Wade's backstory. There were some references to an incident in which Victoria had been kidnapped on a previous case but it didn't really go into detail, only that the event had changed her.
But Victoria had been changing. Ever since that damn attack. Ever since…I nearly lost her.
And her hadn't even realized how important she was to him, not until then. Victoria and her sharp mind. Her slow smile. Her sexy glasses.
He hadn't realized it…not until he'd seen her covered in blood.
It was enough to make me curious about what actually happened, but not even to really take away from the story. I'll most likely be going back to read the previous stories to catch up.
If you enjoy your romance combined with suspense, then this is definitely a book worth reading.
Book Info:

Publication: May 31, 2016 | Avon | Lost #4
PARTNERS . . . FRIENDS . . .
Forensic anthropologist Victoria Palmer has always been better with the dead than the living. Shutting down her emotions, she lets few people in. But then Victoria's latest investigation takes her and agent Wade Monroe to Savannah, Georgia. Handsome, dangerous, and more than ready to play dirty on any case, Wade weakens Victoria's aloofness with just one glance.
. . . LOVERS
Wade knows their recent cases have pushed Victoria beyond her limits. But her skills are crucial to finding a college student who went missing five years ago. Victoria is able to determine she was murdered, and that the killer is still on the loose.
And when the vicious murderer targets Victoria, Wade must do everything in his power to protect her . . . because he refuses to let a woman he loves be torn from him . . . again.