Touched to the Heart by Elsa Winckler: This was not your classic story, yes there is a very rich man and yes there is a salt of the earth young lady but neither make things easy and when you add to that a hand full of brothers and sisters you know there are going to be some fireworks. The story is a little bit fantasy after all what girl doesn't want a white knight to come sweep her off her feet? That being said what struck with this story was the entwining of the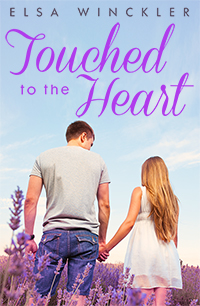 two families from the first moment. It was really the interactions with all of the characters that kept the plot line moving.
Caitlin was incredibly relatable and very human. Reading this story was heart wrenching in a way for anyone who has ever had male trust issues. It wasn't truly Don's fault and yet he was being made to suffer while Caitlin was figuring it out. In so many ways I felt for him as well though, no one wants to explain every detail of their lives.
Overall this was a great story with a twist and the addition of a large family that means this series has at least a couple more stories in it so we can see how the family progresses but it is one I would recommend picking up for a good romantic story with just the slightest bit of steam. I for one am looking forward to the next in the series.
Book Info:

Publication: July 1st 2014 by Escape Publishing
Discover beautiful South Africa in this sweet, heart-warming Cinderella story about a blogger, a billionaire, and one chance meeting.
When it comes to men, if physiotherapist Caitlin Sutherland didn't have bad luck, she would have no luck at all. To help cope, Caitlin starts blogging in her spare time, about the types of men she meets and the bad dates she goes on.
While on duty during the annual Wines to Whales bicycle race, a gorgeous, sweaty cyclist walks in and sets her hormones dancing. But he is Don Cavallo; one of the four Cavallo brothers — hotel tycoons, famous as much for their business skills as for the number of beauties regularly seen on their arms.
Don Cavallo has his own issues with the other sex. He has yet to find one who is interested in him and not in his money or hotels. But when this sexy physio puts her hands on his back she not only touches his body, but also his heart.
They've both been burned before, but neither of them can stop themselves from playing with fire.