Tough Enough by M. Leighton: Katie is a closed-off makeup artist who wants to just get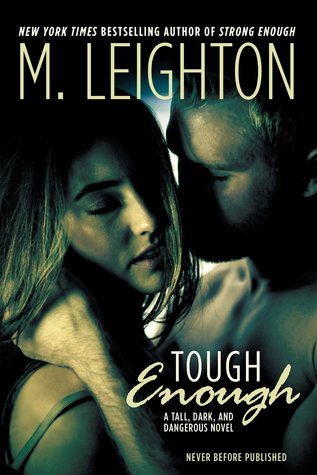 through life. After a traumatic experience, she wants to remain almost invisible and is determined to stay away from all men. She's the only person not looking forward to having sexy and charismatic Kiefer Rogan on the set. She has no use for rich and pampered playboys.
Kiefer is a very successful fighter who keeps his eye on the prize. He acts to make sure he can support himself and his brother for the long-term after his fighting days are over. He can have his pick of women, but it's Katie who he is drawn to. He is determined to change her opinion of him and win her over.
"What's it gonna take to win you over?" he asks. His tone is a vague mixture of irritation and exasperation.
"I'm not sure it can be done."
Kiefer's determined and thoughtful pursuit slowly breaks down Katie's walls. She begins to look forward to his early arrivals and the time they spend talking while she does his makeup for the set. She knows it's foolish to trust him or have any expectations of moving things to the next level, but she also begins to count on his very persistent wooing.
"This doesn't make you less," I tell her softly. "It makes you more. More beautiful, more desirable. It makes you a survivor. A winner. Someone worth having." I drop my voice into a whisper. "Someone worth loving."
Rogan and Katie are more like than either expect. They can relate to each other in ways most other people can't due to their pasts. When Katie finally gives in, they share an explosive chemistry. As Rogan's days on the set are numbered, the past quickly catches up and presents a current danger.
Tough Enough hooked me from the very first page! Tough Enough is sexy, dramatic, and heartbreaking. M. Leighton created two broken characters who reacted very differently to trauma and were irresistibly drawn to each other. Ms. Leighton draws the reader in and doesn't let them go until the very last page. Tough Enough could be read as a standalone, but part of the storyline picks up from the previous book in the series (Strong Enough). Fans of Shayla Black and Lisa Renee Jones will enjoy Tough Enough.

Book Info:

Publication: November 3rd 2015 | Berkley | Tall, Dark, and Dangerous #2
From the author of the New York Times bestselling Bad Boys novels comes the second book in a dark, sexy contemporary trilogy.
He's a fighter who never loses, but is he tough enough to win her heart?
There was a time when I had everything–a wonderful family, a bright future. Love. But all that was taken away in a single night, torn from me like flesh from bone. Since then, I've hidden away in my second-choice job as a makeup artist. But I prefer it that way, actually. I'm comfortable in the shadows, where no one can see my scars.
Kiefer Rogan literally took my breath away the moment I met him. MMA champion-turned-actor, notorious playboy, charming to a fault—he's everything I vowed to avoid.
But he just wouldn't stop until I opened up and let him in. Maybe I should've tried harder to resist him. Maybe I shouldn't have fallen in love with him. Because I, of all people, know that everyone has secrets. Scars. And that they're usually ugly and painful and destructive to the people we love most.
I just never guessed that they could be deadly, too.