Triple Threat by Regina Kyle: Holly Nelson Ryan was a survivor if nothing else. Coming from a great family with great friends she had tried many things over the years, some successfully and some not but she learned and she grew with every step she took. Now she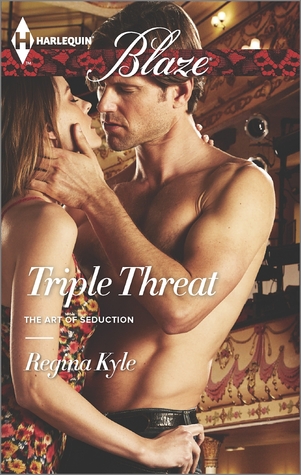 was trying something else, she was a playwright and the outcome was looking good, one movie star had signed on and another was looking to play the male lead. Things were definitely looking up for Holly.
Nick Damone had a rough childhood. He struggled through many things but he to was a survivor and now things were just "happening" for him. He just needed to diversify his career a bit so it was back to the stage for him. Back to where it all began in more ways than one.
Nick and Holly knew each other in high school and had huge crushes on each other way back so what happens when they find out they will be working with one another as adults? What happens when they realize their pasts may be more than either one expected? Add to that someone trying to harm the show? With so much stacked against them will they really be able to break the odds?
Ms. Kyle has written a thriller here. Not only is the love story intriguing the backstory is strong enough to capture your attention and have you wondering about the how's and the why's as well. Domestic violence is not an easy subject to read about but the way Ms. Kyle treated it was, in this reader's opinion, perfect. It felt as if she was setting up for a sequel as well which I can only hope is in the works.
If you are in the mood for a hot batch of intrigue, romance and a little bit of hometown this is definitely not the lesser vessel.
Book Info:

Published September 16th 2014 by Harlequin
Sabotage and Seduction!
The Playwright: It's emerging playwright Holly Nelson's big break. Broadway. Having survived her traumatic marriage and divorce, Holly is now aiming for success, not love. And any naughty dreams about Nick Damone,the gorgeously dishy star who was her crush back in high school, must remain a fantasy.
The Star: For Nick, Broadway is a chance to go from big-screen eye candy to serious actor, and to explore the lust blazing between him and Holly. But life-threatening accidents will force a chain of events that could bring down the curtain on the whole production, or give Nick and Holly a chance to finish the sexy something that started fifteen years ago!