Triple Trouble by Cari Quinn and Taryn Elliott is book two in the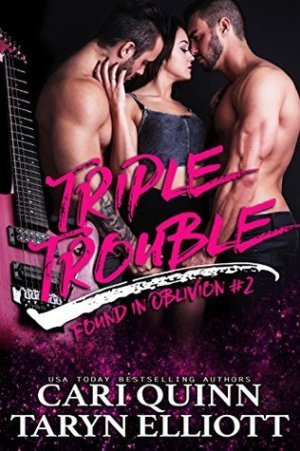 Found in Oblivion series and proves that three really isn't a crowd, instead, it's a dynamic relationship filled with passion and love.
Randy "Sparks" Pruitt has wanted Juliet Reece from the beginning, but she's never shown him the time of day. She yells at him at when something goes wrong, but other than that, there is no proof that she even knows he's there. When Juliet and his best friend, Tristan Eves, start making eyes at each other, Randy walks away and broods.
Tristan can't wait to get Juliet in his bed, or her bed, or anywhere really. When he spies Randy sulking away, he realizes his friend has a thing for the girl he's about to mess around with. The thing about Tristan is, he doesn't care. He's going to have Juliet and when he's done, maybe Randy will finally man up and get Juliet for himself. But things don't go as planned and Randy ends up joining them for the night.
Juliet can't believe she's going to have Tristan all to herself. But now that Sparks is in the equation, she's starting to see him in a new way and wants him, as well. This isn't like Juliet at all. She might be a rockstar but this is new to her and no one can know what's about to go down. After all, it's only a one time deal…right? Turns out one night with the two of them isn't enough and together they must find a way to make it work with the three of them because without all three together, it just doesn't work.
I really enjoyed Triple Trouble and thought it was a great addition to the series. For those who are wondering this is a m/f/m. Tristan and Randy share Juliet and not each other. The sex scenes are hot and as the story progresses, we see more feeling from Tristan, which is what I wanted out of this book. You can certainly see Randy's feelings throughout this whole story, so I was waiting for Tristan to show me something…and he does. Together, they make Juliet feel empowered, sexy, and loved. Overall, this was a fun and sexy read!
Book Info:

Publication: November 18th 2016 | Rainbow Rage Publishing | Found in Oblivion #2
She wasn't looking to fall in love with one man. Never mind two.
Juliet Reece grew up in the shadow of her seemingly perfect older sister, Margo Reece. While Juliet's wealthy, blue-blood parents dealt with infidelity, Juliet fought for normalcy. Now she's the bassist in Warning Sign, a band on the rise, and she finally feels like she's making space for herself in the world. It's her time to shine, and she's ready to have fun and focus on her career.
Until Randy "Sparks" Pruitt nearly blows up her life. Literally.
She can't stand the guy. She definitely hasn't fantasized about gripping a handful of his hair and – no. Not happening.
Then there's Tristan Eves, Sparks' new friend. He's the exact opposite of Sparks. Playful. Naughty. Arousing.
Suddenly, she's on the verge of something wilder than she's ever experienced before. Two seductive men, hers for the taking – if she can handle the heat.