Trouble Walks In (The McGuire Brothers #2) by Sara Humphreys: I think I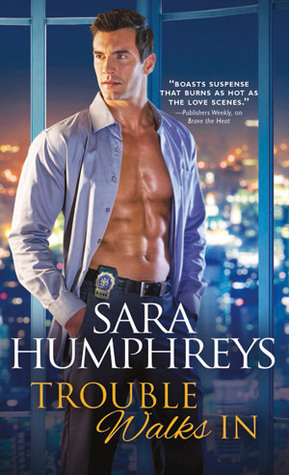 have been waiting for Trouble Walks in since I finished Brave the Heat. Sara Humphreys has a way of capturing the reader, moving them through a mirade of emotions, keeping them on the edge of their seat not only an amazing HEA, but an added bonus of suspense and mystery. This is the story of Ronan and Maddy.
Ronan McGuire is a New York City K-9 officer. With his partner Bowser, they are the best in the search and rescue business. When childhood friend and the girl he has been crushing on since he was in school moves from their sleep little home town to the big city, Ronan makes it his mission to protect her, and if he can get her out of her shell and into his arms even better.
Maddy Morgan lost the love of her love in a tragic accident. Still feeling the sting of his loss, she moves to New York City to get away from the memories, to get away from the looks of pity from friends and loved ones. Wanting to be as far away from home as possible. When Ronan starts making it a habit of dropping in, showing up, giving her a shoulder to cry on and ear to listen, Maddy start to wonder if the grade school crush that she once had on "Make-out McGuire" could blossom into so much more.
But a string of murders has Ronan worried about Maddy safety, has him keeping secrets from her for her own protection. When Maddy suddenly disappears, Ronan will have to put the pieces together and find Maddy before she is taken away from him for good.
What I loved most about this book is the humor and the connection that Ronan and Maddy have. They push each others buttons, they flirt, they dance around the attraction that they have for each other. Ronan only wants to see Maddy smile again, a real smile, not the fake one that she put in place for the world to see. I love the conversation between Ronan and his brother, how he finally admits to himself that he love-likes Maddy.  While Maddy is afraid that it is too soon after Rick's death to get involved in another relationship, but when she admits to her best friend that while she loved Rick, she did not have the feelings for him that she feels for Ronan.  It was simply beautiful.  When they finally admit it to each other, let's just say that it is a moment that you won't soon forget.
This book has hot brothers, strong women, suspense and an amazing HEA. I cannot wait for the next brother to fall. Another amazing addition to this wonderful series.

Book Info:

Publication: August 2nd 2016 | Sourcebooks Casablanca | The McGuire Brothers #2
Big city K-9 cop Ronan McGuire loves women, loves his dog, loves his job – but when old flame Maddy Morgan moves into his jurisdiction, he can't think about anyone else.
Ronan knows she's way out of his league, but he's determined to help Maddy live life to the fullest.
Maddy has immersed herself in work and swiftly made a name for herself in the hot New York City real estate market. She's looking for safety, not love, but Ronan McGuire is as persistent as he is sexy, and his crooked smile is hard to resist. But all other concerns are wiped away when Maddy goes missing and Ronan and his bloodhound K-9 partner are tasked with finding her and bringing her home.