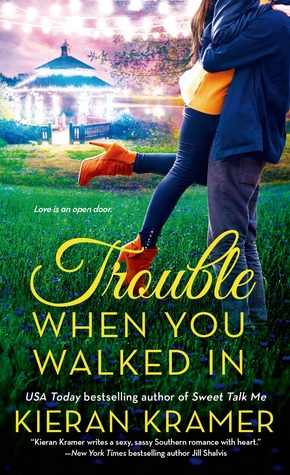 In Trouble When You Walked In by Kieran Kramer, Cissy Rogers is stuck in a rut. She loves her job as librarian in the small town of Kettle Knob, North Carolina. It's a family tradition, after all. But when the library is about to be moved to a strip mall, Cissy realizes it's time she stood up for herself. Unfortunately it's against Boone Braddock, the current mayor and object of every single woman's affection in town. When Cissy comes up with a crazy plan to run for mayor, though, things heat up between herself and Boone. And not just in their campaigns.
'But something in her was too much like Elizabeth Bennet. She wanted the real deal: a man to work hard, to think hard, to win her. She wanted the chase, the wooing, the drama, the romance.'
Football coach Boone Braddock never really thought about how much the small library in town was revered until he made plans to move it to keep costs down. Being mayor in town may have its headaches, but it's been a source of pride and accomplishment for him. Boone didn't expect cute librarian Cissy to get so upset over the news, but he'll admit she's pretty sexy when she's angry. And he's sure he'll get plenty of chances to see that reaction again when she announces she's throwing her hat in the ring as a mayoral candidate.
'It was practically stamped on her forehead: I need more sex, more fun. She should put aside the books now and then and stop dressing like a nun.'
Small town romances don't get much more sweet and charming than Trouble When You Walked In. Full of Southern goodness and lively characters, Kieran Kramer has created yet another completely heartwarming romance.
I know that when I read one of Kieran Kramer's books there will be a solid plot, lots of humor and flirty dialogue, but most importantly: realistic characters. Every person in this story was exactly that. Okay, so some may have been larger than life, ahem–Nana, but still very lovable and so much fun to read about. And that small town atmosphere where everyone knew everyone else's business really drove home the fact that Kettle Knob was a believable (albeit fictional) struggling town.
Cissie and Boone were such an interesting couple. He was the former football star, now coach and mayor. All alpha male. And she was the somewhat shy, repressed librarian looking for her Mr. Darcy. What a winning combination! I loved how they complemented each other and (usually) brought out the best in their personalities. I may have disagreed with some of their choices while working things out emotionally, but it all worked out well in the end. The fact that they had Cissie's Nana helping to push them in the right direction didn't hurt things one bit either.
Looking for a feel good romance with snappy wit and lots of heart? Then Trouble When You Walked In is definitely for you.
Book Info:

 Published August 4th 2015 | by St. Martin's Paperbacks |
She's a woman of her word.
Cissie Rogers likes to do everything by the book. Literally. The town librarian in Kettle Knob, North Carolina, she's determined to preserve the future of literature—and the library's romantic legend—for her patrons. It's not easy when the mayor himself, Boone Braddock, wants to close the library down. There's only one way for Cissie to put a stop to him: By running for mayor herself!
Is he a player—or does he mean business?
Boone is Kettle Knob's favorite son, a champion athlete and stellar football coach with deep local roots. Cissie will need more than a savvy slogan and a pair of three-inch high heels to stand a chance at the polls. But what about the campaign that's underway in her own heart?
What began as professional rivalry has transformed into a simmering attraction that neither contender can ignore. Could it be that the keeper of the town's card catalog and the legendary football hero are ready to team up…and write their own storybook romance?