In Troublemaker by Linda Howard, someone makes an attempt to take out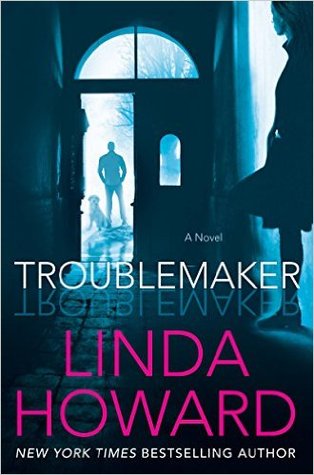 operative Morgan Yancy. As a result his group leader, Axel, chooses to send Morgan to live with his ex-stepsister until he can figure out why someone tried to kill Morgan. When Bo receives a note that Axel left her a present, she wants nothing to do with any of her ex-stepbrother's gifts. Then she discovers Morgan in her driveway, clearly in bad shape, and she doesn't have the heart to turn him away.
The majority of the book deals with Bo and Morgan getting to know each other while Axel is figuring things out behind the scenes. It takes place over the course of months, so their relationship isn't rushed. I liked how not only did Morgan get to know Bo, but he also got to know and come to like the other residents in the small town.
Some of my favorite scenes involved Tricks, Bo's Golden Retriever. She acted much more like a child than an actual dog. The example below takes places after Morgan sits in the passenger seat of Bo's car, which is where Tricks normally sat, and she was upset about it.
Tricks sat in the middle of the sofa, the extravagant, long white feathery strands of her tail draped over the cushion liked a fringed shawl. She was looking off, as if she had no idea they were on the premises.
"Or not," Bo said, standing as still as he was. "Oh, dear. You got her seat, so now she's got yours. I'm not getting into the middle of this. You have to handle it, make it up to her somehow. I'm warning you, she holds a grudge."
For the most part I enjoyed the story, but I felt some things were really explained. For example, it doesn't go into detail as to why Bo and Axel didn't get along while her parents were married. It also doesn't explain why after no contact for seventeen years, Axel suddenly chooses her to take care of Morgan or why he seems upset when he finds out Morgan and Bo developed a relationship.
Also, once we find out who was responsible for Morgan's assassination attempt, we're given the basics of why it happened, but no real details as to why they were engaging in the activities they were or how they were benefitting from it. It felt like most of the story was about Bo and Morgan's developing relationship, and then this was just quickly thrown in towards the end to tie up the assassination attempt.
Troublemaker may be classified as a romantic suspense, but it had much more romance than it did suspense. If you like that, or if you've enjoyed Linda Howard books in the past, you may enjoy this one as well.
Book Info: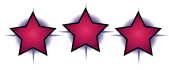 Publication: May 10, 2016 | William Morrow |
For Morgan Yancy, an operative and team leader in a paramilitary group, nothing comes before his job. But when he's ambushed and almost killed, his supervisor is determined to find out who's after the members of his elite squad—and why. Due to worries that this unknown enemy will strike again, Morgan is sent to a remote location and told to lay low and stay vigilant. But between a tempting housemate he's determined to protect and a deadly threat waiting in the shadows, keeping under the radar is proving to be his most dangerous mission yet.
The part-time police chief of a small West Virginian mountain town, Isabeau "Bo" Maran finally has her life figured out. She's got friends, a dog, and a little money in the bank. Then Morgan Yancy shows up on her doorstep. Bo doesn't need a mysterious man in her life—especially a troublemaker as enticing and secretive as Morgan.
The harder they fight the intense heat between them, the closer Morgan and Bo become, even though she knows he's hiding from something. But discovering the truth could cost Bo more than she's willing to give. And when Morgan's cover is blown, it might just cost her life.