In True Blue Cowboy by Marin Thomas, Mack Cash is used to the buckle bunnies always wanting to get in his pants. And one night while playing at a bar he sees another one that just calls his attention and he wants to make sure that she doesn't leave the bar without him.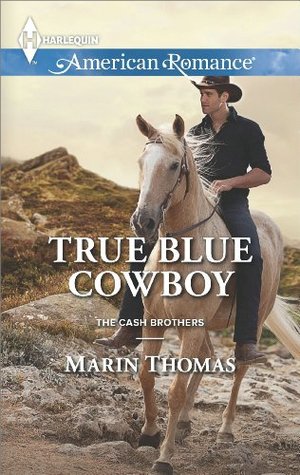 Beth Richards is not the usual buckle bunny Mack is used to. She is classy and while she looks the part, she only dressed the part to celebrate her divorce with a hot fling that will make her forget and make her feel desirable again. Then figure out what to do with her life from now on.
The morning after Mack knows that Beth is more than just a buckle bunny, she is what he has been looking for. But she left him in the motel without a backward glance. He is getting tired of playing on his band, as well of many of the other members, which is why he is thinking about settling down like his brothers have done. But the only woman that has gotten under his skin enough to think about settling down is Beth and he has no way of contacting her.
When Mack and Beth meet once again at the ranch he works at he knows that he will try to convince her to give him a chance. But Mack wants forever and a family, something that she cannot give him. She knows how men change their mind, as her ex taught her when he cheated on her with her boss and got her pregnant, after telling Beth that he didn't want children and didn't mind that she could not give them to him.
Mack and Beth's romance is so sweet you will not be able to put it down. Beth has issues that she knows are not easy to get past, she likes Mack but wants his happiness, something she believes that she will not be able to give him. Mack will have his work cut out for him convincing Beth to give him a chance and that he doesn't mind that she cannot give him a child. Seeing the other Cash brothers and having Johnny give Mack the advice he needed was great.
I can't wait to read Porter's book next. If you want a sweet and heartwarming read, don't miss True Blue Cowboy by Marin Thomas.
Book Info:

Published August 5th 2014 by Harlequin American Romance Series #1509
He Never Expected To See Her Again!
When Mack Cash's mysterious one-night stand shows up at the dude ranch where he works, he is stunned. And just as he suspected during their night together, Beth Richards is no buckle bunny, despite the getup she was wearing. Instead, she's just the kind of woman he's looking for—sexy, sure, but also down-home and whip-smart.
Mack's obvious attraction is just the boost Beth was looking for after a hurtful divorce. She loves the way he looks at her—and sees her. Except for one thing. He wants a family, and Beth can only disappoint him. She's already failed at love once and she can't go through it again. That's why she has to let Mack go…