True-Blue Cowboy Christmas by Nicole Helm: Thack might be a wee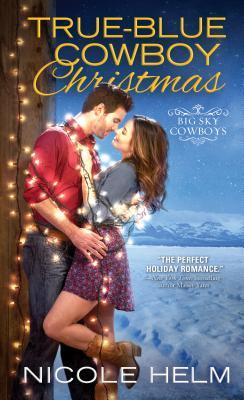 bit overprotective of his seven year old daughter, but understandably so after he dealt with the deaths of his wife and mother in short order. So when he finds his daughter has run off for the umpteenth time and met the strange new woman next door, the last thing Thack wants to do is let the woman in their life, no matter how much his daughter begs or his dad tries to maneuver.
A year ago, Summer moved to Montana to meet her father and siblings in effort to find her place in the world and escape a mother that spent years abusing her. And while she loves it on the ranch, she stills feels like an outsider with the family much of the time. But as she enters Thack's family's life, once he finally concedes to her working for the family, she begins finding a home that feels like her own.
Summer, with her upbeat mindset and constant warmth, begins changing the entire attitude of Thack's ranch, along with Thack himself. He hates trusting someone new and especially doesn't trust in his own happiness, but he can't help but fall for her. But as Summer finds her place with Thack, the fear of her mother coming back and harming her new home looms strong.
"Why did you do that?" he asked, his voice not nearly as strong or demanding as he might have wanted.
"You constantly look like someone in desperate need of a hug."
He wanted to do more than hug her. As platonic as that had been, the absence of her – her arms, her warmth, her smell – all clamored inside him, leaving him desperate for more.
I quite liked True-Blue Cowboy Christmas. Thack and Summer's romance was insanely sweet and I loved seeing how they changed one another and created a home together. Their problems felt real – to a point.
It was definitely a bit slow, and I feel I skipped over the deeper development of their relationship, but what bothered me the most was that the end of the story went way overboard with the danger aspect. There was the slight specter of the mother throughout, but it grew to unexpected and quite shocking levels which just didn't fit in with the rest of the story.
Otherwise, though, I love the creation of this new family unit. Thack's daughter is a sweetie, his father is fantastic. And Thack himself, he's that grumpy yet endearing cowboy we all love to read. Summer, too, is repressed, but perfect. She wants love and a place to call home, and no matter what happens she goes through life with a smile.
Book Info:

Publication: October 4, 2016 | Sourcebooks Casablanca | Big Sky Cowboys #3
BIG SKY CHRISTMAS
Thack Lane has his hands full. For the past seven years, he's been struggling to move on from his wife's tragic death and raise a daughter all by his lonesome. He doesn't have time for himself, much less a cheerful new neighbor with a smile that can light up the ranch.
Christmas spirit? Bah, humbug.
With Christmas right around the corner, Summer Shaw is searching for somewhere to belong. When her neighbor's young daughter takes a shine to her, she is thrilled. But Thack is something else altogether. He's got walls around his heart that no amount of holiday wishes can scale. Yet as joy comes creeping back to the lonely homestead, Summer and Thack may just find their happily ever after before the last of the Christmas miracles are through…