In Turn Me Loose (Paradise, Idaho #3) by Rosalind James, Rochelle has worked hard to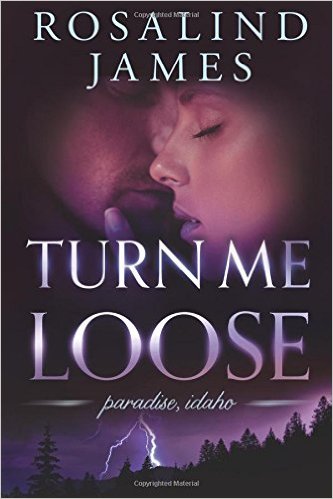 shed her past and get where she is today. As an assistant to the dean at the university, she is shocked to find out the new lecturer is her very hot one night stand from a few months ago. The same one she never heard from again. Rochelle tries to stay professional and not cross into personal again with Travis, but the magnetism between them is impossible to ignore. She knows he is not in Paradise permanently, but the attraction between them is strong and they start to spend more time together. As responsible Rochelle is pulled into her younger sister's mistakes, Travis finds himself drawn into their web also. Soon there is not only hope, steam, and a relationship to try to build, but a murder and drug scheme that is turning very dangerous.
I really liked Rochelle as the heroine in Turn Me Loose. She is a hard worker, independent, and very responsible. She takes a lot on her shoulders without asking for help. With the problems she faces, the past she's trying to overcome, and her present day issues, she felt very real. Travis might seem very sure of himself, but he's had his own issues to resolve. I liked how he was with Rochelle. He very obviously pursued her, but he respected her at the same time. He was protective of her, but not pushy. Neither of them has forgotten their memorable night…and it was fun and entertaining at times to watch them get to know each other. The connection between them is obvious from the outside looking in! I liked that Rosalind James developed their relationship before the turmoil of suspense came into play.
Rosalind writes about realistic, tough issues in Turn Me Loose, and she writes about them well. The suspense of Turn Me Loose held my interest as much as the growing relationship between Travis and Rochelle. I couldn't wait to see where both of these would go! There is tension, conflict, and mystery well woven into a romance in Turn Me Loose. Rosalind kept me guessing and intrigued on this journey.
Small town issues and family dynamics are also a big part of Turn Me Loose. These are strong parts of the plot and necessary to the plot.
Part of Rosalind James' Paradise, Idaho series, Turn Me Loose can be read as a stand alone. I'd recommend it to romantic suspense readers.
Book Info:

Published: May 17th 2016 by Montlake Romance | Paradise, Idaho #3
Rochelle Marks is working hard to build a name for herself that has nothing to do with her pinup-girl curves. She's made mistakes in the past, and now she's trying to stop her little sister, Stacy, from making worse ones. Rochelle's done with being nothing more than someone's good time. Even if that someone is the one-night stand who turned her life upside down before vanishing—and who's just arrived in Paradise, Idaho, looking to pick up where they left off.
Tech mogul Travis Cochran's hard-won new priorities have brought him to town as a university lecturer, but he's come for something else, too: the smart, sassy, gorgeous woman who's been in his head for months. When Stacy's choices draw her big sister into a web of down-home crime and cold-blooded murder, Travis's mission gets a whole lot more urgent. Now convincing Rochelle to trust him isn't just about winning her back. It may be the only way to keep her alive.…