In Turned (The Belladonna Agency #1) by Virna DePaul, Ana Martin left her life as a gang member behind to start over in Seattle, becoming a small business owner who is trying to forget her troubled childhood. She longs to find her sister Gloria to ensure of her safety and happiness. When she's approached by agent Ty Duncan, he offers Ana a way to gather information about Gloria and to join the Belladonna Agency, where she will work undercover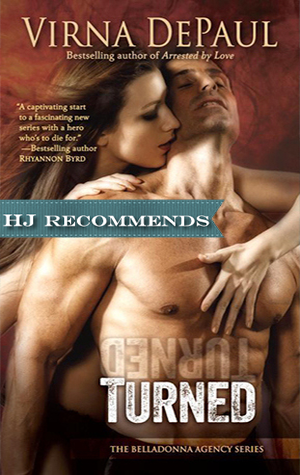 to infiltrate a group of suspected rogue vampires. Only, Ana isn't aware vampires are real. Yet. Or that Ty, who she is drawn to like no other, is a turned vampire himself. After a lifetime of being mistreated by the men in her life, Ana has to figure out where her loyalties lie: with her estranged sister Gloria, or with Ty–the man who has sworn to protect and care for her.
'If she took a chance on him, on them, maybe when this was all over, she'd have more than she'd ever hoped for. Love. Rock solid and blazing hot. If he had what it took, then she was in. All the way.'
FBI agent Ty Duncan has worked for the Belladonna Agency since he was turned into a vampire several months ago. His job within the secret agency is to deal with rogue vampires and ensure the safety of humans. Ty knows how important it is to get Ana Martin to cooperate with them, given her previous ties to local gangs, but what he doesn't know is how strong his emotional and physical reaction will be when they meet. In Ana, he finds a fellow tortured soul who helps him finally feel the emotions he's kept hidden for so long. But can Ty retain his focus on the mission with Ana around or will he be distracted by his fear for her safety?
'Without knowing it, she'd again brought him from the edge of an abyss. He didn't dare tell her that she made him want to keep living.'
Turned is the first in a new paranormal series by Virna DePaul revolving around the Belladonna Agency, a secret sector of the FBI made up of a handful of both vampires and humans. This is an incredibly solid start in what promises to be an exciting look into a different world for us PNR fans.
I have to say first, that I am impressed with the complexity of the plot in Turned. There were many twists and turns that kept me interested in what would happen next to our protagonists. I also felt that all of the characters were quite well developed, and even though there were quite a few to keep track of, the story fluidly switched pov's so that it was easy to follow along. The storyline was a twist on the idea of vampires hiding among humans. The fact that the government knows about them in this case and is basically playing devil's advocate leads to interesting situations between the humans and vampires.
As for our main characters, Ana and Ty were so drawn to each other, I thought it was inevitable they would fall in love. They both had issues from their past they were struggling hard to deal with and it seemed like they recognized that in each other, giving them the strength to start the healing process. Ty's instinct to protect Ana and to claim her came across loud and clear in Virna's writing and it made for some very tense but ultimately incredibly romantic moments as well. I admired Ana's strength after all she had been through. The fact that she understood Ty's struggle accepting himself as a vampire and how she tried to help him come to terms with it is simply a wonderful act of love in my humble opinion.
"You showed me my life is still worth living. That I–that I can still love. And if I can still love you as I am, then I'm not the monster I thought."
Overall, I think Turned is an intriguing story with flawed characters who I connected with immediately. Fans of paranormal romance rejoice, here's a compelling new series to sink your teeth into.
Book Info:

HJ Recommends
Expected publication: April 1st 2014 by Bantam | Series: The Belladonna Agency #1
Perfect for fans of J. R. Ward, Nalini Singh, and Lara Adrian, bestselling author Virna DePaul's new series of paranormal romances introduces readers to a thrilling world where vampires secretly co-exist with humans, seduction rules the night, and the stakes are nothing less than life and undeath.
Welcome to a mesmerizing world where vampires hide among humans. This centuries-old species has its own rules, code of conduct, and taboos. Only the FBI knows that vampires exist—and although the Bureau agrees to keep their secret, it also plots to give humans the upper hand.
Turning mortals into vampires is forbidden.
But there are creatures who refuse to play by the rules.
Ever since he was turned, FBI special agent Ty Duncan has had one mission: bring rogue vampires to justice. As a recruiter for Belladonna, a shadow agency formed to keep vampires in check, Ty must tap Ana Martin, a troubled ex–gang member and one of the few mortals who can infiltrate places that his kind and the law cannot. From their first encounter, Ty fights a hunger to make Ana his own.
When Ty claims to have information about Ana's missing sister, Ana has no choice but to trust this captivating stranger who awakens her deepest desires. But as she and Ty climb the heights of pleasure and passion, an enemy is conspiring to destroy them both.
Can Ana help Ty find his humanity in a love that could heal them both, or will their passion lead them into a darkness impossible to escape?