Turned Up by Erin Nicholas is book three in the Taking Chances series and I am so happy that I was able to read this. I am a big fan of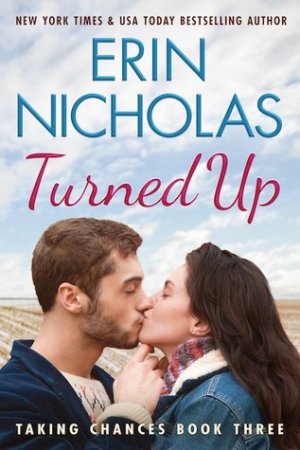 this author, especially this series, but Turned Up, has to be favorite book ever from Erin Nicholas.
Dillon Alexander and Kit Derby take center stage in this fun and very sweet romance. Both are doctors, only one focuses on the mind. Everything is a competition to these two. It's been like this since grade school. When a blizzard traps Dillon and Kit together, it's almost impossible for them to ignore the heated attraction between them. But it's a chance to clear the air and make some confessions. But they've been denying their feelings for years, will everything change when the love words start flowing?
Chemistry is through the roof with these two, but it's more than that. Their connection to each other is very special and the author showed us that, within the pages. They each have to be better than the other, but they also make each other better. They push each other into being the best possible person they can.
Dillon and Kit are two amazing characters, who if left alone, would do just fine. But when they with each other, that's when the magic happens. They are literally two pieces of a puzzle that fit beautifully together and I literally couldn't get enough of these two!
I wish more people knew about this author, because her books give me everything I want in a contemporary romance. It's a wonderful thing when an author can take you out of reality for a bit and transport you into their world and that's exactly what happened with this book. Bottom line…Turned Up made my heart happy. One of my favorite books this year, by far, in the contemporary romance genre.

Book Info:

Publication: August 29th 2017 | Montlake Romance | Taking Chances #3
Dillon Alexander has been Kit Derby's nemesis since third grade, when he beat her in the school spelling bee. They've been competing ever since, driving each other to be the best at everything from science fairs to bake sales. While working together one night during their senior year, they stopped bickering long enough to share an emotionally charged kiss. But a tragedy that same night left them both racked with guilt, driving Dillon out of town and leaving Kit determined to keep her distance.
Now an emergency room physician, Dillon has returned to their hometown of Chance, Nebraska. Soon he and Kit fall back into old habits, sparring in public while trying to stay out of each other's arms. But when a blizzard traps them overnight at Kit's grandmother's farmhouse, the real competition begins: Who will be the first to give in to the feelings they've denied for a decade?