In Two By Two by Nicholas Sparks, Ad exec Russell Green is a family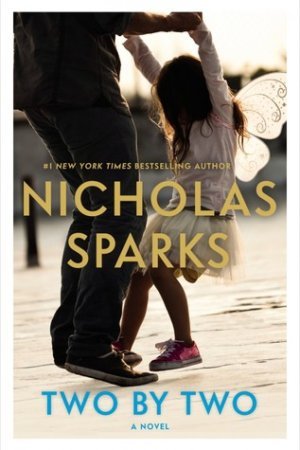 man. A guy who works hard and plans ahead in order to take care of his wife Vivian and his darling daughter London. He never thought his marriage would be tested to the extent that it would reach a breaking point. But as London is ready to start kindergarten and Vivian decides to go back to work, everything in Russ's life begins to slowly crumble. Little by little, what were once small issues become huge stumbling blocks until he finds himself with a house and his daughter to care for on his own.
'My marriage was important to me–my family was important to me–and I would do whatever it took to keep us together.'
Russell holds onto hope that things will sort themselves out. And as he and London find a routine at home that works for them, he embarks on a new chapter in his career as well, opening his own advertising agency. With the support of his family and a friend he reconnects with, Russ begins to emerge out from under his despair and shock to learn just what he's truly capable of. But for every step he takes forward, it seems like there's something else that goes wrong. It will take all of his focus, energy and strength to get through each crisis and find solid footing once again.
'…The heart wants what it wants. Hope might leave me crushed in the end, but losing all hope somehow seemed even worse.'
Nicholas Sparks is one of the most popular authors out there today for a reason. And Two By Two is a prime example of why that is. With emotional richness and a complex, evolving storyline, this newest release was spot-on and evoked a depth of feelings that was absolutely incredible.
'…It eventually dawned on me that acceptance is the heart of true love, not judgement. To be fully accepted by another, even in your weakest moment, is to finally feel at rest.'
There are some stories that just really touch your heart, whether it's the characters, the situations they find themselves in or even in the honesty with how they're portrayed. In the case of Two By Two, it was all of those things and so much more. I'll be honest though, this was a book that wrung me out emotionally. But in a good way. I connected almost immediately with our main character Russell and spent the rest of the almost five hundred pages feeling every one of the emotions he experienced. The good, the bad, and the oh so ugly.
One thing that I really loved and have to mention was that Sparks started off each chapter with a short passage replaying a memory from Russ's past, one that would relate to the issues he was facing in the upcoming pages. That format gave us a glimpse into what Russ had been through–basically, what had formed his personality–and also set us up for the troubling issues or good things that were coming his way. It might be disorienting at first for some, but it quickly became one of my favorite parts of the novel.
I will say that if you're looking for the bad boy type, this might not be for you. But if you like beta heroes who are thoughtful, hopeless romantics? Then Russ is your guy. I really did fall for him right away. He was such a sweetheart as well as being a solid, genuine, family-oriented man. And I think that's what got to me, was to see what his wife Vivian put him through. I was enraged on his behalf and shocked and dismayed that such a wonderful guy was being treated so poorly. I'll admit that I disliked Vivian right away. Strongly disliked. And that's unusual for me in a book. But even though I (again, strongly) disliked her, it served a purpose in the overall story. Just like the secondary characters, who I adored, had a big role in Russell's and London's lives and were written into the story perfectly.
Between the sweet, tender moments with his cute-as-a-button daughter London, to the struggles he faced as a husband, and the everyday pressures he dealt with in his career, Russell will be sure to leave a lasting impression on readers. And while the ending may have left me a sniffling, teary-eyed mess, Two By Two was worth every single emotional moment.
Book Info:

Publication: October 4th 2016 | Grand Central Publishing |
#1 New York Times bestselling author Nicholas Sparks returns with an emotionally powerful story of unconditional love, its challenges, its risks and most of all, its rewards.
At 32, Russell Green has it all: a stunning wife, a lovable six year-old daughter, a successful career as an advertising executive and an expansive home in Charlotte. He is living the dream, and his marriage to the bewitching Vivian is the center of that. But underneath the shiny surface of this perfect existence, fault lines are beginning to appear…and no one is more surprised than Russ when he finds every aspect of the life he took for granted turned upside down. In a matter of months, Russ finds himself without a job or wife, caring for his young daughter while struggling to adapt to a new and baffling reality. Throwing himself into the wilderness of single parenting, Russ embarks on a journey at once terrifying and rewarding one that will test his abilities and his emotional resources beyond anything he ever imagined.