Two-Week Texas Seduction by Cat Schield: Your whole life is building up to this, to this one dream. A dream that just might finally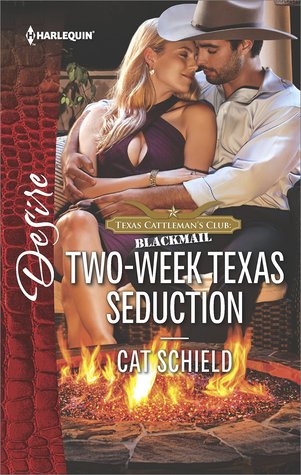 come true and then you get an email, an ultimatum. What will you do?
Brandee Lawless just had everything hit the fan. The only thing is, she is the only one who knows. She is the only one who needs to know, until she figures things out though. She has to decide what she is willing to risk and what steps she is willing to take.
Shane Delgado pretty much knew what he wanted, did it and then lived it. The thing was as happy as he was things were going well he was always wondering, always curious, always not quite satisfied. He knew he wanted Brandee's land though and had been after that for some time, although now he was starting to question whether it was the land or her.
When Brandee makes a seemingly random offer to Shane he has to wonder what is going on, but he is too intrigued to care. When two weeks is over what/who will be the victor?
The Texas Cattleman's Club and Royal, Texas are two amazing places to be. With this novel Ms. Scheild has brought her readers back to town and perhaps with a little more intrigue than normal. It's wonderful! Though the ending wraps things up a bit too quickly and of course the story doesn't really finish it is such a great story that it will leave you wanting to not leave Royal. This is a great trip to the Texas heat for a two week journey.

Book Info:

Publication: Published February 7th 2017 | Harlequin Desire | Texas Cattleman's Club: Blackmail
She's willing to bet the ranch that he can't resist temptation…
Up-by-her-bootstraps Brandee Lawson fought hard to establish Hope Springs Ranch. But a mysterious blackmailer threatens to expose her secret to real estate developer Shane Delgado. She could lose everything, and she can't let sexy Shane short-circuit her survival instinct!
Sure, Shane wants her land, but he can't help wanting Brandee, as well. When she offers Royal's most notorious bachelor a winner-takes-all wager in a bid to keep the ranch, it's the ultimate test. Can he resist her charms–and should he even bother to try when something much deeper than sexiness surfaces between them?