I am so glad I read Ultimate Courage (True Heroes #2) by Piper J. Drake! I loved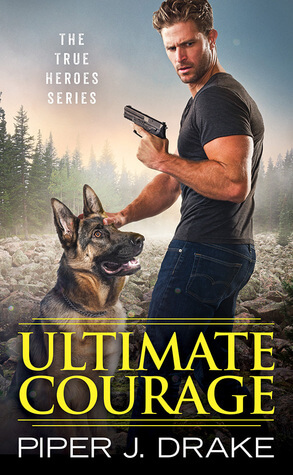 it. It was one of those books I didn't want to end, because I felt so involved in the plot! Piper J. Drake took the theme of an abused woman on the run to a whole new level, and wrote a well developed, emotional story in Ultimate Courage.
Alex and Elisa are both powerful main characters. Neither of them are perfect, in fact they are both flawed and have issues they are working through. Neither of them is looking for any kind of relationship, but the instant attraction is there. I loved Alex. He is so strong and protective, and determined not to let his problems take over his life. It is very difficult for him, but he works hard at it. I loved how he was with Elisa…so patient, caring and very observant. He saw more than she was telling him from the start. I loved Elisa also. She is brave, determined, and very strong. I loved her as a heroine because she didn't hide her past, and slowly (but not too slowly!) opened up to Alex and his friends. She didn't want to take help, but she did because she knew she had to. She is very cautious though. I liked that she wasn't a heroine determined to do everything on her own and she didn't keep secrets about her past. I liked that she didn't paint all men with the same brush as her ex. I admired both of these characters greatly for what they went through in the past to the issues they are facing today.
The developing relationship between Alex and Elisa felt very right. I liked the progression of it and that it wasn't perfect. I had high hopes that Elisa could put her past to rest and move onto a better future. Both of these characters made their way into my heart, and they felt like real people as I was reading. The alternating POV's between Alex and Elisa worked well to bring me into their lives.
The secondary characters are mainly people from Hope's Crossing, from colleagues to Alex's daughter. They are a perfect fit for this story, and I loved the connection between them all. It felt like a group of friends I'd love to be a part of. I loved, loved the animal theme in Ultimate Courage. It really helped make the book for me. Especially Souze. Even his doggy character developed well and grew through out the story, and I really liked how Piper did this.
Piper J. Drake writes the suspenseful, stalker part of the plot in a way that weaves in perfectly with romance. Alex and Elisa's relationship and all it encompasses is the main theme, but who Elisa is running from is always there in the undercurrents, and you can't help but feel a little shiver now and then, wondering what would happen.
Ultimate Courage by Piper J. Drake had it all for me! A mature, realistic relationship between two people I came to care about, enough suspense and unknowns to keep me a little on edge, and a host of secondary characters who all fit so well with the plot. Very well paced with great flow, I'm not sure what I can read next that will compare to Ultimate Courage! I'd highly recommend Ultimate Courage to any romance reader!
Book Info:

Published: July 26th 2016 by Forever | True Heroes #2
LOVE IS AN ACT OF BRAVERY
Retired Navy SEAL Alex Rojas is putting his life back together, one piece at a time. Being a single dad to his young daughter and working at Hope's Crossing Kennels to help rehab a former guard dog, he struggles every day to control his PTSD. But when Elisa Hall shows up, on the run and way too cautious, she unleashes his every protective instinct.
Elisa's past never stays in her rearview mirror for long, and she refuses to put anyone else in danger. But with Alex guarding her so fiercely yet looking at her so tenderly, she's never felt safer . . . or more terrified that the secrets she keeps could put countless people in grave peril. The only way for both to fully escape their demons will take the ultimate act of courage: letting go and learning to trust each other.