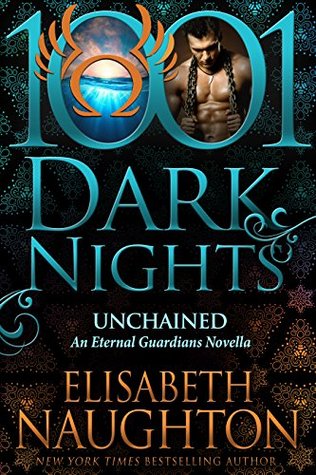 Unchained (Eternal Guardians #8.5) by Elisabeth Naughton: After thousands of years of torture by Zeus, Prometheus is now free, thanks to the Eternal Guardians. He now spends his days trying to make amends with his daughter and enjoying solitude. Not wanting to get in the battle between the Eternal Guardians and Zeus for the precious elements, Prometheus is hiding away in his castle. That is until a beautiful vision comes to him, begging his help, begging him to come and rescue her.
Zeus has tricked and help the witch Circe prisoner in a mountain high on Olympus, now he forcing her to trick Prometheus into telling her where he has hid the last of the elements that will give Zeus ultimate power. But as Circe begins her plans for seducing Prometheus, she begins to fall pray to her own trap as her feelings for the wounded titan forces her to make a decision, betray Zeus to save Prometheus, or risk her heart and destroy them all.
Unchained, although a novella, has a definite beginning, middle and ending. It is a continuation of the amazing Eternal Guardians series. I have read and loved ever book in this amazing series, and this one is no different. It is good to see how the Guardians band together when there is trouble, risking everything to save a titan, to go after Zeus. The chemistry and connection between Prometheus and Circe was off the charts. Even when Prometheus thought that he was being betrayed by Circe, he still risked everything, even the possibility that he would once again be captured by Zeus in order to find a way to free her. Once Circe figured out what Zeus was really up to, it took everything in her to try and stay away from Prometheus, to try and protect the titan that has come to mean everything to her. Her love for him made her want to be a better person, a better witch.
I look forward to the hunt for the element and to see where this series will lead next. Amazing addition to an outstanding series!

Book Info:

June 14th 2016 | Evil Eye Concepts, Incorporated | Eternal Guardians #8.5
PROMETHEUS – One of the keenest Titans to ever walk the earth. Until, that is, his weakness for the human race resulted in his imprisonment.
For thousands of years, Prometheus's only certainty was his daily torture at Zeus's hand. Now, unchained by the Eternal Guardians, he spends his days in solitude, trying to forget the past. He's vowed no allegiance in the war between mortal and immortal, but when a beautiful maiden seeks him out and begs for his help, he's once again powerless to say no. Soon, Prometheus is drawn into the very conflict he swore to avoid, and, to save the maiden's life, he must choose sides. But she has a secret of her own, and if Prometheus doesn't discover what she's hiding in time, the world won't simply find itself embroiled in a battle between good and evil, it will fall in total domination to Prometheus's greatest enemy.