Undeniably Yours by Shannon Stacey is a fun and sexy read that you will not be able to put down till the end.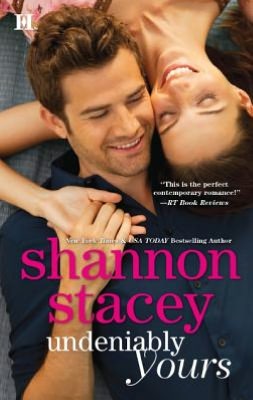 Kevin Kowalski is used to women throwing their numbers at him and always having them fall at his feet. So when saving Beth from the attentions of a drunk "date" he is surprised that she doesn't thank him for it, in fact she is pissed. But when the man tells her she is fired, he realizes his mistake.
Now at his brother's wedding, Kevin finds himself still unable to stop thinking of Beth, only to find her as a bartender at the reception. Now all he has to do is convince her to have a dance with him and go out with him.
Beth finally decides to act on the attraction between them. But in the morning when she searches Kevin's pants for the room key to step out and get breakfast she finds a lot of napkins with phone numbers and messages only to have Kevin tell her to lock the door behind her while still asleep. Which only proves to her how much of a player he is.
"Oh, hell no," she said. "I'm not writing my number on a napkin so you can ad it to your collection"
"I don't have a collection because I don't want their numbers. I want yours."
"Sadly, I'm never going to kiss a napkin for you."
"If you did, I'd not only keep it, I'd frame it and hang it right there, over the bar."
"Never gonna happen"
A month later Beth discovers something else, not only was her one-night stand a player, but he turned out to be one of the 2 percent with a faulty condom, which left her with a baby. When she goes into Kevin's bar to let him know, he thinks that she is there to explain her Cinderella act, only to find out the news that he is about to be a dad.
Now Kevin will do anything to keep the baby and Beth safe, and the first step is to marry her, but Beth is used to her freedom and will not give it up easily. So he decides to bring her to the apartment next to his so he can make sure she is always safe. While the chemistry is still there, convincing Beth that they are worth giving a chance at being a family will not be easy, especially with her having a foot out the door the entire time.
If you want a sweet, fun and sexy read, then you have to read Undeniably Yours by Shannon Stacey.
Note: If you have not read any of the Kowalski books don't be afraid to jump in anywhere. There are all really fun and feel like stand alones when read on their own, even if they are part of a series. I should know I've been reading them completely out of order. 😉
Rating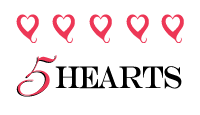 Book Info: Publisher: Carina Press; Original edition (February 1, 2012)
Can a one-night stand turn into happily ever after?
Bar owner Kevin Kowalski is used to women throwing their phone numbers at him. Even if lately he's been more interested in finding Mrs. Right than Miss Right Now. Enter Beth Hansen.
Kevin and Beth may have started out all wrong, with an impromptu passionate encounter at a wedding, followed by a walk of shame. Yet Kevin knows there's more to their relationship than a one-night stand. Especially when Beth turns up pregnant.
Kevin may be ready for the "next step," but Beth doesn't want a relationship with a former playboy, however irresistible he might be. And it's going to take a lot to convince her to go on a second date with the father of her child….