Under Her Skin by Adriana Anders  is well-written and well-detailed. It tells a story of a young woman on the run, who is broken yet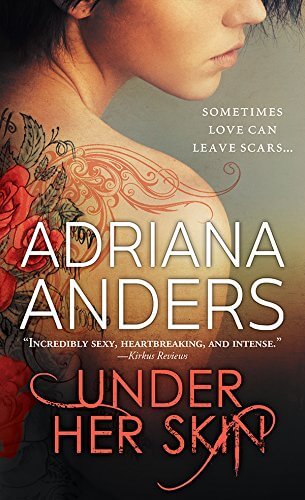 trying to piece her life back together. In doing so, she meets a man, who is just as shattered, as she is, and the two embark on a steamy romance that becomes so much more.
Uma is on the run and winds up in a small town, far from home. This town has it perks for her, though. There is a clinic that promises tattoo removals for people with no money and people who have been abused. Uma fits in both categories. Uma's ex-boyfriend, Joey, did a real number on her, physically, and mentally. He also destroyed her camera's and equipment, which in Uma's mind, is her soul. But if she goes to the clinic, she can start by taking her life back, piece by piece. While in town, she agrees to be a live-in helper to Ms. Lloyd, an older lady. She feeds her, cleans up after her, and anything the cranky lady needs. The lady has a reason to be cranky and we find out the reason towards the end.
When Uma first meets Ivan, she describes him as burly, and roughed up; nothing like her ex-boyfriend. He's the total opposite of her ex, and in this instance, it's a good thing. Looks can be deceiving, because this man, is tender and full of compassion. He's a blacksmith who instinctively knows Uma is running from someone and would gladly track him down and show him a thing or two, but it's not that easy. Uma's ex isn't a regular guy, he has strong ties to law enforcement and that makes this whole situation, even more dangerous.
Uma and Ivan's relationship is slow burning, as it should be. Both characters have scars, whether they be physical or mental and they really needed time to learn about one another. For Ivan, being with Uma is refreshing. With her, he learns that fighting isn't the only answer to handle things, especially if it means another stint in prison.
Uma's mother really got on my nerves. Always defending Joey and trying to get Uma to come back home to her and to him. I really wanted to shake her a few times and have Uma cut her losses completely. As for Uma's ex, there were times when I wanted to jump through the pages and strangle the douchebag. He's definitely bad news, but in the end, justice comes through.
Throughout the whole story we meet people who show Uma the acceptance she needs and many of these people, have layers to them, that aren't recognizable unless you really get to know them. This includes Ivan, his sister, and Ms. Lloyd. I really enjoyed these complex and profound characters and I believe they really made this story worthwhile. Overall, I enjoyed this story and the characters in it. Uma was very brave to endure what she had to and even braver for taking the chance to leave and move on. For those who have triggers, this story is about a woman moving on after domestic violence, and the story does reference rape. Just a warning to those who need it.
Book Info:

Publication: February 7th 2017 | Sourcebooks Casablanca | Blank Canvas #1
Her Body is His Canvas
A darkly possessive relationship has left Uma alone and on the run. Beneath her drab clothing, she hides a terrible secret—proof of her abuse, tattooed onto her skin in a lurid reminder of everything she's survived.
Caught between a brutal past and an uncertain future, Uma's reluctant to bare herself to anyone…much less a rough ex-con whose rage drives him in ways she will never understand. But beneath his frightening exterior, Ivan is gentle. Warm. Compassionate. And just as determined to heal Uma's broken heart as he is to destroy the monster who left his mark scrawled across the delicate tapestry of her skin.