In Under The Wire by HelenKay Dimon, Cara Layne is in trouble. In Russia on a scientific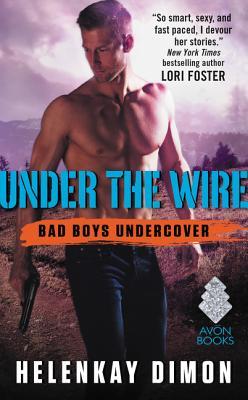 mission, her team comes under attack. When she comes to and her team is missing, she has no choice but to try to survive and find a way to escape the people searching for her.
Reid Armstrong, part of a high level group called Alliance, is contacted by Cara's brother when she doesn't check in. Reid takes his friend and fellow Alliance member, Parker, and they sneak into Russia to find Cara, who happens to be his ex-fiancé.
Both Reid and Cara had issues that led to their previous breakup. It was nice to see them both acknowledge that they were both wrong and watch as they tried to overcome the issues that kept them apart before, all while on the run in a foreign country, trying to stay alive.
There is plenty of action as the trio, along with Alliance, attempt to figure out who the culprits are and what their ultimate goal is.
Someone was paying the bills and pulling the strings. Niko, but the CIA was involved as well. That made for two players with two agendas. The Russians added a third.
When they discover members of Cara's team murdered at different locations, they know it's only a matter of time before they try to find her, too.
Parker provided some comic relief during the tense situations.
"It should be bigger." The idea made sense to Cara. Something that messed up their cell phones and Reid's fancy tracking system and whatever else should at least take a truck to move.
"That's the kind of nightmare line a man never wants to hear from a woman."
He also has a tendency to believe it things that some strange things are real, but he has a reason for that.
"Yetis, snowmen…I know you believe in some weird stuff, but you're rock solid."
Parker glanced up. "Do you know why I believe?"
"No clue."
"Because when you see shit like this you should believe anything is possible." Parker stood up. "If humans can do this to other humans? Hell, I'll take my chances with the Yetis."
I liked Parker and am looking forward to when he gets his own book.
While this is the fourth book in the series, it can be read as a stand alone. I haven't read the previous books and was able to follow along for the most part. I would have liked to have known more about the past between the head of Alliance, Tasha, and businessman Niko, since they've clearly had confrontations in the past, but not knowing didn't take away anything from this story.
Under The Wire has suspense and romance. It's fast-paced and action packed. If you enjoy romantic suspense or have read and enjoyed the other books in this series, you should give this one a try.

Book Info:

Publication: June 28, 2016 | Avon | Bad Boys Undercover #4
Only one thing could pull Reid Armstrong away from a vacation he's earned with every muscle in his finely honed body—learning that his former fiancée has disappeared on a top-secret science expedition in the middle of nowhere. Second chances don't come often in Reid's business, and he needs to prove his worth to Cara Layne or die trying.
Waking up to find her camp destroyed and her colleagues missing, Cara is a walking target. She can't trust anyone, least of all Reid. Even if his skills get them out alive, he's a heartache waiting to strike twice. Yet being in close proximity proves their connection burns hotter than ever.
The body count is rising, the enemy is getting closer, and soon Reid will be right back in the position that cost him everything—forced to choose between the woman he loves, and the job that's his only hope of saving them both . . .