In Undercover Attraction (The O'Malleys #5) by Katee Robert we finally get to see inside Aiden O'Malley. Let me tell you, since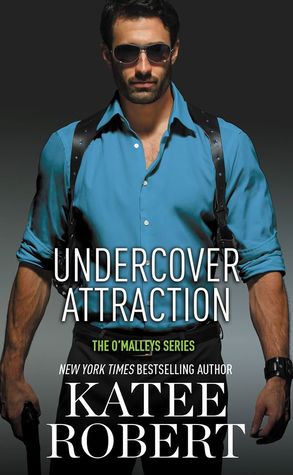 book one in this series I have been eagerly waiting to see what makes Aiden tick, let me tell you, it was totally worth the weight. If you are new to this series, I would highly recommend reading the other books in this series first, that way you understand the dynamics and the back story for the characters that you meet. This is the long awaited (by me anyway) book of Aiden and Charlie.
Charlotte "Charlie" Finch is a former cop, former not because she left the force, she was kicked out after being wrongly accused of being a dirty cop. Add to that, her father, and FBI agent wants nothing to do with his only child because of this, oh yeah and the real dirty cops beat her and left her in the hospital. She is a survivor, but she is stuck not knowing how to move forward with her life. After their first meeting a year ago, Aiden O'Malley shows up offering Charlie a chance at revenge against the man that go her kicked off the force, for a price of course.
Aiden O'Malley has a lot on his plate, he is trying to salvage his family, trying to destroy his enemies, and trying to save his baby sister from a marriage that nobody wants for her. At all times he wears a mask of calm and control. But it really is just a mask. When he approaches Charlie with a proposition to get rid of a mutual enemy and help save his baby sister, Charlie wants to know that price. Playing Aiden's fake fiance is not a hard price to pay.
But as Aiden and Charlie move from fake to something that feels very real, it might come back to bite them. And when Seamus O'Malley returns wanting to take over the family business again, when Charlie is taken as revenge against Aiden and her father, Aiden will do whatever it takes, even making a deal with the devil himself in order to get Charlie back, to keep her safe and convince her that they are meant to be……for real this time.
What I loved about Charlie and Aiden is that they are both very strong characters. They are not above pushing back against each other or speaking their minds. I love that Charlie pushed Aiden to open his eyes and make piece with his siblings before he lost them for good. I love that Aiden was there for Charlie, wanting to protect and defend her. Aiden was always an enigma. In each book, you could never get a good read on him, never knowing what made him tick or what side he was going to land on. In the last book, we got to see a soft side when it came to his sister Sloane. In this book, we really get to see the layers that Aiden tries so hard to keep together. It made me like him so much more.
An amazing series that I would recommend to anyone that loves a good mob story with amazingly well developed characters and chemistry so hot it sizzles.
Book Info:

Publication: November 28th 2017 | Forever | The O'Malleys #5
Scandal. Wealth. Power. Seduction. Welcome to the world of the O'Malleys.
Ex-cop Charlotte Finch used to think there was a clear line between right and wrong. Then her fellow officers betrayed her, and the world is no longer so black and white. Especially when it's Aiden O'Malley, one of the most dangerous men in Boston, who offers her a chance for justice. The only catch: she'll have to pretend to be his fiancée for his plan to work.
Aiden can't afford to let anyone see the man behind the mask. To run the O'Malley empire, he has to be cool and controlled at all times. But the moment he meets Charlie, they're playing with fire. Her slightest touch is enough to send him over the edge. At first their "engagement" was a way to eliminate his enemies. Now he'll do whatever it takes to keep her safe– even if he has to destroy his own family to do it.
Previous books:
THE MARRIAGE CONTRACT
THE WEDDING PACT
AN INDECENT PROPOSAL
FORBIDDEN PROMISES