Undiscovered (Amoveo Rising #1) by Sara Humphreys: Oh my! I am almost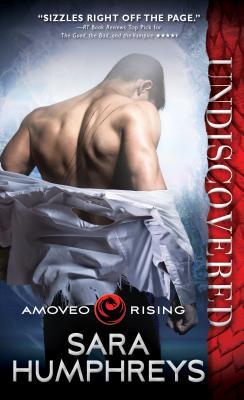 ashamed to admit that this is the first in any of the Amoveo series that I have ever read. I know, I know…..what is wrong with me? Believe me I am asking myself the same question! Welcome to the world of mythical creatures great and small. I have read contemporary by Sara Humpherys and believe me, the paranormal is now on my radar. This is the amazing story of Zander and Rena.
Zander has been stuck in his human form for almost 500 years while his twin Zed has been stuck in his dragon form. Yep they are both dragon shifters and more than that, they are identical twins, something unheard of and especially for dragons. Zander has been trying everything he can think of to break the curse put on he and Zed after causing the death of the woman of the fox clan that they both thought was theirs. Zander quickly realizes that the woman that has been walking in their dreams, the beautiful Rena is Zed's mate, and if he can get them together he can break the spell, problem is, he wants her for himself.
Rena always knew that she was different, but never knew why. Then Zander shows up at her door and it all becomes clear, she is different because she is a shifter, part of the fox clan, and she is drawn to Zander like none other. But at every turn he pushes her away, keeping her at a distance, reminding her and himself that she is meant for his brother.
But when Zander takes Rena to her clan lands, the same lands that hold a sleeping dragon, the passion building between Rena and Zander can no longer be denied. And when a sleeping dragon is woken, it could spell disaster for everyone.
Zander and Rena are HOT HOT HOT together. The chemistry is off the charts. I love that Zander tried to keep his distance, denying the attraction and the pull between he and Rena. I love how Rena pulled out all the stops to show Zander that he, not Zed was her fated mate. And the rest of the fox clan was so supportive even after finding out that Zed and Zander are dragon shifters. They were welcoming and friendly. Amazing story with amazing characters. I cannot wait for more!

Book Info:

Publication: Published March 7th 2017 | Sourcebooks Casablanca | Amoveo Rising #1
He's the man of her dreams
A long time ago, Zander Lorens was cursed to walk the earth stripped of his Dragon Clan powers. Every night, trapped in a recurring nightmare, Zander relives his darkest moment. He can hardly believe it when the dream changes and a beautiful young woman appears. Zander believes she's the key to ending his torment. Finding her in the real world is one thing, but how will he convince her of who-and what-she really is?
She's the end to his nightmare
Rena McHale uses her unique sensitivity as a private investigator, touting herself as a "human divining rod" and finder of the lost. By day she struggles with sensory overload, and by night her sleep is haunted by a fiery dragon shifter. Nothing in her life makes sense, until the man from her dreams shows up at her door with a proposition…