Undone by the Billionaire Duke by Caitlin Crews has a trope that could pass for a regency romance but is clearly written as a modern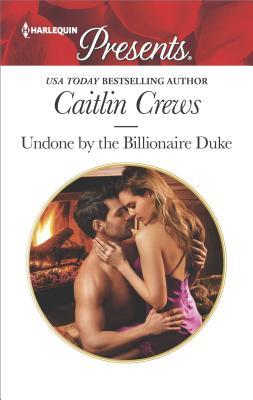 take on the governess and the lord of the manor falling in love.
Hugo, Duke of Grovesmoor has an international reputation as a playboy, much of it drummed up by a vengeful ex-girlfriend. When she marries his former best friend and they both die in a car accident, Hugo becomes the guardian of their daughter. Finding a governess who'll see to the girl's needs without trying to make their way into his bed is a challenge.
Eleanor Andrew is desperate for money to support her and her sister (and in particular, her sister's rather expensive lifestyle) and the job offer in the countryside sounds pretty ideal. Providing schooling for a pre-teen girl at the estate comes with huge financial rewards that are worth the isolation. Eleanor doesn't expect to have much to do with the Duke, whom she knows only by his ill-gotten reputation. Yet to her surprise, Hugo seems to be around at every turn. And in private, the tabloid scandals seem rather exaggerated. Hugo and Eleanor connect on a personal level. But just when Hugo has begun to trust Eleanor, her sister shows up, with her own agenda. Will Hugo and Eleanor's relationship be over before it's barely begun?
I always enjoy reading a Caitlin Crews romance! With some small changes in time period, this could easily be a historical romance as the social classes that Eleanor and Hugo belong to are just as wide apart in modern times as they were back in the days of Hugo's ancestors. There are reasons for Hugo to mistrust the women who've found their way into his life, but he finds Eleanor to be a breath of fresh air for the simple reason that she isn't panting after him, nor is she afraid to speak her mind. Eleanor doesn't really believe Hugo would ever be interested in her, so it's easy to ignore that he's a handsome and attractive man, until he sets his sights on her. The result is some steamy love scenes and intimate moments as they share their deepest secrets. Geraldine, Hugo's ward, is a sweet and spirited young lady whom Eleanor comes to care for, and with whom Hugo develops a better relationship over the course of the story.
Eleanor's sister Vivi clearly is used to taking advantage of her sister, and in getting her own way. After their parents died Eleanor was responsible for taking care of them both, and she doesn't see how manipulative Vivian is. But Hugo can see it, and makes Eleanor aware of it too. Vivi makes some decisions that have some serious consequences for them both. Fortunately Hugo has learned enough about Eleanor to know that she's the one for him, and he becomes the hero in pursuit, leading them both to a happy ending. I would have liked to see Eleanor stand up for herself earlier against her sister but she finally does at the end. This is an entertaining and dramatic romance with a sweet epilogue.

Book Info:

Publication: Sep 19, 2017 | Harlequin Presents |
Can she tame the shameless duke? The brazen antics of Hugo, Duke of Grovesmoor, and the string of women to grace his bed are tabloid gold. But Eleanor Andrews, newly hired to care for the duke's young ward, refuses to see him as anything but her boss. She desperately needs this job. No matter how gorgeous Hugo is, the stakes are simply too high… Well acquainted with lies and betrayal, Hugo is jaded and cynical, unconcerned with dispelling the salacious rumors about him. But there's something about Eleanor that fires his blood, and he can't turn down the challenge to unbutton his uptight employee!