In Unforgettable (Untouchables #2) by Cindy Skaggs, Undercover agent Blake Reilly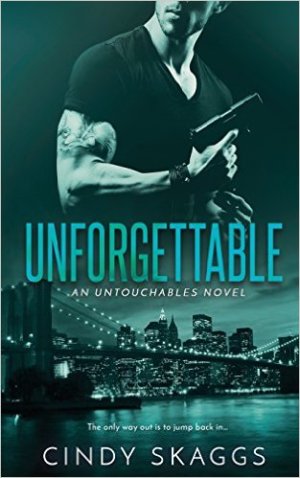 never thought he'd see Vicki Calvetti ever again. So, when she walks back into his life and into the sort of dangerous situation she escaped from with being part of a powerful family that ran the mob, he'll do anything to keep her safe. Fortunately, Vicki proves just how capable she is in protecting herself, until a threat from Blake's past and a memory she's done her best to forget threaten to turn her world upside down.
"This has nothing to do with you. I didn't ask you to come here. I didn't ask you to interfere. I didn't even ask you inside. Get out."
"Too late." Gone was the flirtatious lilt and the wicked gleam in his eyes. "Pack a bag."
"Not a chance." She settled against the edge of the desk. "I didn't take orders from my father or my brother. I didn't change allegiance when they died. No way am I taking orders from you."
What an intriguing story Ms. Skaggs has penned with this book, which was filled with plenty of mystery and a good dose of romance. It's also a story that encompasses the second chance romance trope, two fantastic main characters and a plot that kept me entertained from start to finish. The way this story began opened this story with such intensity that I was hooked in wanting to know more about the heroine and the threat she thinks will disrupt her life since managing to disband the mob her family ran.
As for the dialogue, it was intense due to the main characters back stories, the past history between the hero and heroine and the danger this couple face throughout this story. When Vicki comes face-to-face with the hero again for the first time since she last saw him years ago, I found myself flipping the pages rapidly determined to know whether she'd manage to get herself out of the dangerous situation she finds herself in. Luckily, the heroine is strong and brave and knows how to defend herself, as proven with every moment she's threatened.
She shook her head. "I don't work for the mob."
"Looks like damn hard work from where I'm sitting."
"It's my life." Categorizing it as good or bad, hard or easy, just put more stress on an already-tense life. And she was done talking about it. "Which makes me a realist as well."
"What's happening isn't going to disappear with a few swipes of a magic wand, Victoria. This situation is—
"Dangerous. Got it."
Both the main characters made this story a worthwhile read. Vicki is a feisty heroine and I liked how she challenged the hero. Since Blake is so arrogant in the way he promises that there's no way he'll let her go again now that he has her back in his life. Moreover, both characters have some tough choices to make. How far will Vicki and Blake go to protect those they love? As this story progressed, it was palpable that both the main characters would do anything to protect each other as well as those they love, even if it meant Vicki confronting the past and learning all she can, so she can remember the memory she was so determined to forget. A memory that not only puts her life in more danger, but also puts someone else she shares a connection with in danger to.
While Blake, he's smart, confident and protective of Vicki. He's been undercover for so long, and it seems things may be coming to an end at the worst possible time, because now he has to keep Vicki safe and out of the clutches of his target. Will Blake sacrifice all the hard work he's done to take down his target in order to keep Vicki safe? Will Vicki be able to help Blake take down the man he's been after for years?
Overall, Ms. Skaggs has penned a really good stand-alone read in this second book of her Untouchables series where the sex scenes were hot and did justice to the strong chemistry these two had wonderfully. The way this story ended was intense because of what happens to one of the main characters. Yet, I loved what happened after that moment. Vicki and Blake were meant to be, and it shows in the conversation they have at the very end. Neither could forget the other in the whole time they were apart, and it's why the title of this book has such a special meaning. I would recommend Unforgettable by Cindy Skaggs, if you enjoy romantic suspense, second chance romances or the revenge trope.
Book Info:

Publication: December 5th, 2016 | Entangled Publishing | Untouchables #2
Vicki Calvetti made it out of the mob–or so she hoped. But when the old family hitman, the FBI, the Justice Department, and a smoking hot man from her past crash land on her doorstep, she learns she's not quite done.
An undercover cop chasing revenge, Blake Reilly gets the shock of his life when Vicki walks back into his life and into his club full of more drug dealers than a pharmaceutical convention.
Catching up doesn't take long, and their undeniable chemistry is full-speed-ahead until someone ends up dead, putting both their lives at risk unless Vicki can remember the secrets she paid to forget.