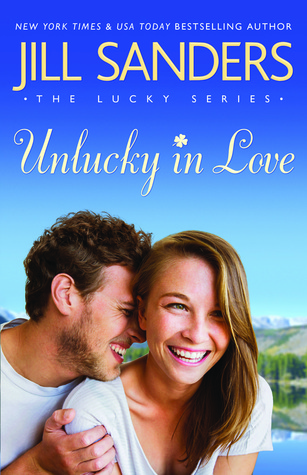 In Unlucky in Love by Jill Sanders, Kristen Collins believe she had a curse put on her by an ex's sister. She uses this to explain her bad luck; her ex steals all her belongings, she buys a new car and gets carjacked, as well as a variety of issues with other ex-boyfriends. So when she runs into Aiden Scott, a man she believes to be a new employee at her job, she knows she should stay away.
Aiden is posing as an employee to decide if he's interested in taking over the business. The partners want to retire and asked if he would be interested. The last thing he expected to find was a woman who catches his interest, especially one who seems to have nothing but bad luck.
I liked Kristen and Aiden together. Alone, Kristen was a mess; nothing went right and she determined to blame it on a curse. Aiden, however, slowly convinces Kristen that she can make her own luck. As she learns to believe it, things turn around for her. When Aiden has a family emergency, Kristen doesn't hesitate to go with him to deal with it. I did feel at times that she was a little unreasonable though. When she finds out why Aiden is really at the business, she assumes the worst about him and doesn't give him a chance to explain, instead chalking it up to the curse striking again.
This is a sweet story about learning that you can make your own luck; you don't need to sit back and wait for good things to happen to you. Fans of Jill Sanders won't be disappointed with this book.
Book Info:

 March 8, 2016 | Montlake Romance | Lucky #1
Kristen Collins is cursed. It's the only explanation for this recent run of catastrophes. She's lost her brand-new car and a winning lottery ticket, and her ex-boyfriend just drove off with all her possessions. She's even lost the empty office that's been her lunchtime sanctuary. Plus, the new hire who's taken it over is precisely the kind of impending heartache she knows to avoid, from his intense gaze to that irresistible crooked smile.
Developer Aiden Scott plans to stay at the Denver architecture firm just long enough to prime it for takeover. A job like his can't get personal. Yet from the moment he collides with Kristen, he's smitten. He wants to save the stunning interior designer from every crazy scenario she winds up in. But who's going to save him when his business agenda shatters Kristen's trust?
Turns out, love's a lot like luck. You don't know just how good you have it until you stand to lose it all.