Unspoken by Jen Frederick is a the second book in the Woodland series and tells the story of Bo and Anne Marie (AM).
AnnieMarie has been labelled as a slut by her peer group after her one drunken mistake. After the rumors about her being "easy" refuse to stop, she goes into seclusion with only her best friend Ellie for company. One Incident involving a guy has ruined her reputation and life. After everything she has gone through, it is completely illogical to want someone who is impulsive, unthinking,involved in illegal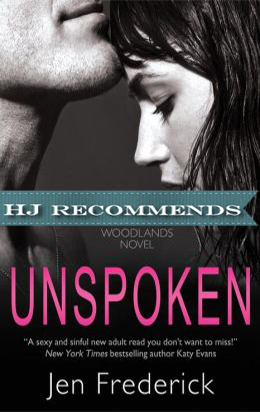 fighting with a quick temper and an easy smile for all women. So why does Bo set her hearts racing every time he comes near her, why is he slowly making his way to her heart even after so much resistance from her side..??
Unspoken is a wonderfully written new adult novel. The author has handled very complicated characters very deftly and has woven a good story with some serious issues like bullying,abuse etc. The characterization was very good and their growth throughout the story made them easy to understand. Even the side characters were good and the main characters from the previous book also pop in from time to time. Bo was a hero with lots of baggage, but unlike many new adult novels he was not a jerk. He is impulsive,quick tempered and is involved in illegal fighting and sleeping around with anything female to let out his frustration. He is a former marine and is damaged emotionally because of his sordid past. I loved the way he really cared and stood for AnnMarie in the end. I know its a silly complaint but I just wish he had a better name.He is referred as Bo throughout the book but his real name is Beauregard Randolph and Bo is the shortened version of his real nickname Bo Peep…:)
"It's only me who's chasing you."
"I'm not running away from you."
He leaned back. "So you say."

"Well, when you find someone like AM, what you felt about the cause, about being a patriot, is like eating eggs from the MRE pack. Dry, tasteless, meaningless. It's nothing. I'd kill for her and," I paused,
"I'll learn to walk away."
AnnieMarie or "AM" as she is referred in the book is the victim of false rumors. She has been labelled as a slut by her peer group and everyone is busy making her the butt of their jokes. She is off her college social circuit and is only close to her best friend Ellie. The rumors may have destroyed her reputation permanently but that does not stop her from standing her ground and facing all the ridicule from everyone head on.It takes her a while to open her heart to Bo because of everything she has gone through. I liked the way she finally stood for herself and finally ended her self imposed seclusion to protect herself from the constant abuse. Ellie was wonderful and one of my favourites in the book because she was a true friend.Once again I had a problem with AnnieMarie's nickname and I wish her real name was used throughout the book instead of AM.
"If you were a guy, your conquests made you a god. If you were a girl, you were the conquered, no better than a toy"
The romance has a slow build up and goes through the transition of friendship to love. When Bo and AM finally get together it is pure explosion because the sex is steamy and they set the pages on fire with their chemistry. Their story was a mix of drama and reality with quite graphic scenes of their lovemaking. Bo is the one doing all the chasing and wooing and AM takes her own sweet time to open up but given her past, I thought it was understandable.
"God, Bo, right now? Do we have to talk biology right now?" I groaned.
"Why, AM, is there something you want?"
I sat up and grabbed him by the shoulders to pull him on top of me.
Wrapping my legs around him, I pushed my pelvis up. "Yes, I want you.
Inside me. Now."
Overall,Unspoken by Jen Frederick is a wonderfully written New Adult book with well developed characters.The sole focus of the story is the relationship between AM and Bo. The novel contains some pretty graphic scenes and rough language which includes some slangs.It is not your average escapism romantic reads as it deals with quite a number of issues between the characters and society in general.
Recommended for anyone who likes New Adult novels.
Review by Ipshita
In Unspoken (Woodlands #2) by Jen Frederick, College student AnnMarie, or AM as her friends call her, is under a self-imposed exile. She refuses to go to any parties or even to the Central College cafeteria after the ridiculous gossip spread about her last semester. AM had a drunken night of fun with a lacrosse player and from there the team took it upon themselves to make vicious rumors and come on to her as if it was their right. She had to endure men and women alike, none of whom knew her, call her a slut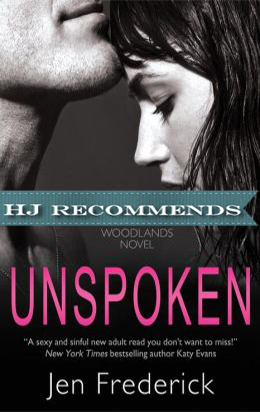 and joke about her being riddled with disease. So, to hopefully let the false stories die down, she decided not to go near campus except for classes.
'Yup, the germ of a rumor was like the magic beans in the Jack and the Beanstalk story. Planted at night and by morning, the stalks of the plant reached the heavens.'
Somehow AM ends up sitting next to and getting paired as a lab partner with Bo. He's a bad boy, there's no doubting that. And he's just the type of guy she needs to stay away from. But he turns out to be intelligent, charming and genuine, much to her surprise. Before she realizes what's happened, she looks forward to class and the occasional text from Bo. He makes his interest in AM obvious and she tries to deny her growing attraction to him, but there's no use. AM only hopes she can keep her wits about her and not fall deeply in love with the gorgeous, troubled Marine.
'Bo was the poster child for every disaster that female singers warbled about. He'd break your heart and do it smiling. Worse, he'd make you think you were better off for having your heart broken because it was done by him.'
Bo Randolph served his time in Afghanistan in the Marines and now he's almost finished at Central College. He tries to keep things pretty simple. When he wants to let off steam he does some underground fighting, and when he gets bored he finds a willing female looking for a casual fling. Bo has been running from his childhood for years and knows he's not cut out for a loving, long-term relationship. But AnnMarie might just be the woman who can change all that. She's smart as a whip and doesn't back down when he intentionally pushes her buttons, and she is so beautiful he can't think straight around her. Given his background, the last thing he should do is get involved with AM, but Bo hopes she can learn to love him. Flaws and all.
'I knew love made you stupid, which was why I shied away from it, but I had a feeling I was in too deep with AnnMarie already for either of us to come out of it unscathed.'
Unspoken, book two in the Woodlands series, is written with intelligent prose and is full of emotional depth one expects (and hopes) to see in a New Adult novel. Jen Frederick has a distinctive way of letting her characters convey their feelings very concisely so it is easy to understand their actions as the story progresses. As with other New Adult narratives I've read, I was glad the point of view switched back and forth from Bo to AM. Otherwise, I spend time wondering why the other character is acting irrationally and making certain choices. Instead, this gives both of our protagonists a voice.
The premise behind the story and set up of the plot is somewhat typical of the genre: college students in the midst of personal growth and with conflicts from their past coming back to haunt them. However, the difference in Unspoken is the intelligence behind both Bo and AM's conversations and actions. Of course they are still young so they may not make the right decision at first, but there is an honesty and relatability to their situation.
I felt the characters were both well developed. AM is a strong young woman with a good head on her shoulders. She makes a mistake that isn't uncommon in college student's experiences and unfortunately has to deal with the ramifications. Her struggle with how to handle the gossip seemed very realistic. And her reactions to Bo, her wariness in his intentions seemed like a natural step, given her past. Bo is…well, he's the type of guy you want on your side. That tough exterior hid very well the emotions going on underneath, which I think is pretty common for a guy that's seen and done what he has. Even though he has issues with his self-control and has the brawn to back up any threat, he is a stand up guy who just wants to be appreciated for who he really is.
Unspoken is a wonderful addition to the New Adult genre. It has everything from heart-wrenching moments to lighthearted intelligent banter and intense, sexy love scenes that will leave you breathless. I definitely recommend checking out AM and Bo's love story.
Review by Michele
Book Info:

Published September 13th 2013 by Pear Tree LLC
Whore. Slut. Typhoid Mary.
I've been called all these at Central College. One drunken night, one act of irresponsible behavior, and my reputation was ruined. Guys labeled me as easy and girls shied away. To cope, I stayed away from Central social life and away from Central men, so why is it that my new biology lab partner is so irresistible to me?
He's everything I shouldn't want. A former Marine involved in illegal fighting with a quick trigger temper and an easy smile for all the women. His fists aren't the danger to me, though, it's his charm. He's sliding his way into my heart and I'm afraid that he's going to be the one to break me.
Impulsive. Unthinking. Hot tempered.
I allow instinct to rule my behavior. If it feels good, do it, has been my motto because if I spend too much time thinking, I'll begin to remember exactly where I came from. At Central College, I've got fighting and I've got women and I thought I was satisfied until I met her.
She's everything I didn't realize I wanted and the more time I spend with her, the more I want her. But she's been hurt too much in the past and I don't want to be the one to break her. I know I should walk away, but I just can't.