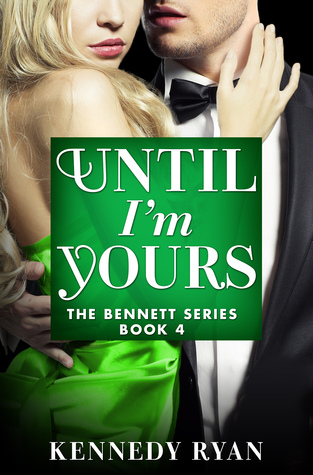 Until I'm Yours by Kennedy Ryan: Everyone knows the face, but no one knows the girl. Trevor Bishop likes the face, but wants the girl. Beneath Sofie's façade, he sees the same hunger for significance, the spark of intelligence, and the heart that no one else understands. But Sofie rejects his advances, refusing to soften.
Eventually Trevor gets to know the girl, but Sofie will never unleash her secrets nor will she fully accept him, fearing her promiscuous past and scandals will negatively affect Trevor's future goals as head of a peace mission.
I absolutely loved Until I'm Yours. An intriguing story exploring the depths of tragedy, secrets, and love. Nothing new about celebrity-dom, but definitely an interesting look into one individual's life and her finding freedom from her image.
"I don't know what you want from me"
"Yes, you do. It's just that no one's ever asked you for it before." His lips straighten and his jaw clenches as he eyes skim my face. "You want a quick fuck, but I want more."
More. Dammit. He's making me do this.
"Look, I'll sleep with you, but anything more is getting too personal."
His lashes fall to cover his eyes, but not before I read disappointment there.
"Then this is as far as we go."
And truly, Trevor Bishop is a hero. He chases and refuses to give up, allowing Sofie to grow and gain confidence in who she is not what she looks like while remaining a total gentlemen and alpha male. And honestly, the sexual tension between them is fantastic, heating up the pages as Trevor makes her wait. Waits for her to care about him over sex.
Sofie, beneath the sharp edges, is delicate, smart, and I loved her. She experiences much, pain, exhilaration, and joy, throughout the story and it is a pleasure to go through it with her. Although, insecurity can be a bit strong at times along with Sofie's in-your-face sexuality, as the conflict amped up I remained hooked.
The fourth in a series, Until I'm Yours can be read as a standalone, although I recommend reading the others because I know I'm going to now. For any reader who wants a highly romantic drama, I recommend Ryan's newest.

Book Info:

 February 2, 2016 | Forever Yours | The Bennetts #4
The world knows her face . . .
Mean girl. Goddess. Bitch. Supermodel Sofie Baston has earned those labels . . . yet they don't scratch the surface of who she really is. Before she can follow her own dreams, Sophie must do her daughterly duty and reel in a "fish" for her father's business-a tall, brown-eyed entrepreneur who immediately hooks her. He's a big guy with an even bigger heart . . . but will that heart be open to Sofie once her darkest secret is revealed?
. . . but only one man knows her heart
To Trevor Bishop, Sofie is a beautiful mystery he would gladly spend his life solving. He figures her tough demeanor is armor against a world that's hurt her too many times. Then Sofie's deepest wounds are reopened by the powerful, ruthless man who made them. When she musters the courage to take him down, her world shatters. Now Trevor is determined to help Sofie pick up the pieces so they can build a future together. The challenge will be convincing his ice princess that it's safe to melt in his arms . . .