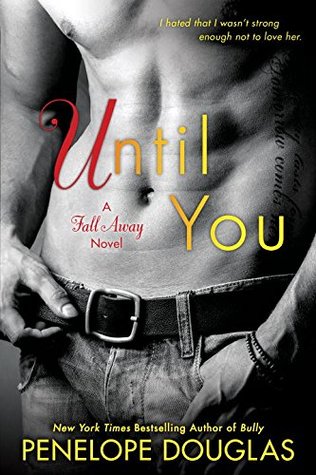 In Until You (Fall Away #1.5) by Penelope Douglas, Jared Trent swears he fell in love with Tatum Brandt the first time he saw her, when she moved in next door. They were both ten years old and the following four years were the best of his life. But after a terrifying, life-changing summer at his estranged father's house, Jared came home to find that he could no longer trust Tate. Heart broken, he decided to strike back and make her as miserable as he felt.
'Right at that moment, I wanted everything from Tate. Everything. Her anger and passion, her hate and lust, her body and soul. I wanted control of all of it.'
Bullying Tate was one way Jared felt in control in his out of control life. However when she went abroad for a year, he lost his focus and got into more and more trouble. Thinking Tate's return would also mean getting back to his so-called normal routine, Jared is surprised when his usual stunts no longer make her cry. They make her angry. And Tate angry is a beautiful thing to witness. Should he call a truce and take a chance admitting his true feelings for her? Or has he pushed things too far to ever go back to how close they once were?
'Seeing the angry passion on her face built me up the same way bullying her had done. And when I thought of how I could've felt all of this by simply being close to her rather than hurting her, I was planted–no, stuck–to the ground by the weight of wasted time.'
Until You was a New Adult novel that told the tumultuous story of a troubled young man who felt he had no one left in his corner. Against all odds, though, Jared made it through and this chronicles just how he accomplished it.
I went into this book trying to keep an open mind about Jared after seeing what hell he put Tate through in Bully, and I have to say that I was pleasantly surprised. I loved that author Penelope Douglas intentionally wrote this to be not just another rehashing of the original story, but as truly being Jared's journey and view of things. In my opinion, she certainly accomplished that. I feel like I now understand where he was coming from emotionally, and while I still don't condone his actions they at least make sense.
Reading this from Jared's POV was at times hilarious, other times heartbreaking, and a few times just plain painful. My heart went out to him for the tough situations he went through in his childhood and teen years. Did it give him the right to be a bully to Tate and others? No. But at least, like we saw in book one, Jared does show remorse for his actions and he did his best to earn back Tate's trust and prove to everyone that he was honorable.
I think readers would have an easier time understanding this story if they've first read Bully. Until You can be read as a standalone, but I think it works better read in order. Like I said, this was not just a retelling of the original from Jared's POV. This book included several scenes between Jared and Tate that were never in Bully, along with of course all of the insight into his past. The final scene was definitely my favorite. It was very emotional and it so perfectly encompassed who Jared and Tate really were. Loved it.
Newly released in paperback, Until You was the follow up to Bully that fans asked for. I, for one, am glad to have read it and to see things through Jared's eyes. From friends to enemies to lovers, his and Tate's romance was nothing short of epic.
Book Info:

Published January 5th 2016 (first published 2013) | by NAL | Fall Away #1.5
***This novel contains graphic sexual content and harsh language. It is only appropriate for adult readers age 18+.
Have you ever been so angry that hitting things felt good? Or so numb that you actually felt high? The past few years have been like that for me. Traveling between fury and indifference with no stops in between.
Some people hate me for it, while others are scared of me. But none of them can hurt me, because I don't care about anything or anyone.
Except Tatum.
I love her so much that I hate her. We used to be friends, but I found out that I couldn't trust her or anyone else.
So I hurt her. I pushed her away.
But I still need her. The sight of her centers me, and I can pool all of my anger into her. Engaging her, challenging her, bullying her…they are my food, my air, and the last part of me that feels anything human.
But she left. She went to France for a year, and came back a different girl.
Now, when I push, she pushes back.