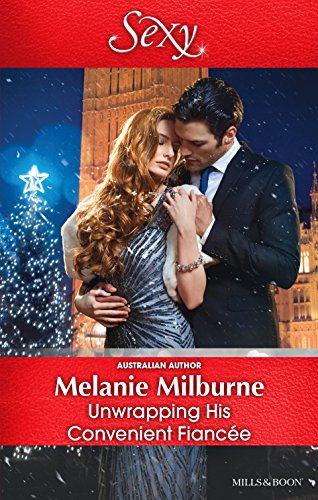 In Unwrapping his Convenient Fiancee by Melanie Milburne, Cameron McKinnon knows he shouldn't be lusting after his friend's sister. Still, he can't help it. There's something about Violet Drummond that he can't stay away from her. When he learns about her dilemma of needing a date to her work Christmas party, he's tempted to use her predicament to his advantage. However, what happens when their fake relationship starts to become very real. Can Violet convince Cameron that not all relationships are doomed and that he'll never end up like his parents?
"I'll strike a deal with you," he said. "I'll come to your Christmas party if you'll come to a dinner with my client tonight."
Violet screwed up her face. "The one with the persistent wife?"
"I've been thinking about what you said back at the café. What better way to send her the message I'm not interested than to show her I'm seeing someone?"
What a delightful book Ms. Milburne has penned, which encompasses both the brother's best friend and friends to lovers tropes. Right from the beginning, this story was riveting, fast-paced and I was hooked due to the Violet's dilemma. Can she find a date to attend her work Christmas party with her? Will she look like the company laughing stock again if she turns up alone?
The dialogue was intense due to the main characters back stories. Cameron believes relationships aren't for him, because he's seen how volatile divorce can be and still witnesses that his parents don't know the first thing about remaining true to their vows. Can Violet convince him otherwise? Is she the one woman that can make him realize that he's nothing like his parents? While Violet, she's not comfortable amongst crowds after what happened to her years ago. It's left her wary of men, yet Cameron is different. She knows he would never hurt her. Not intentionally, anyway.
Both characters thoroughly entertained me from start to finish, especially when they were conversing. They're so comfortable with each other, enough that it was easy to convince everyone that their fake relationship appears to be real. Besides, it does help that there's so much chemistry between them, which eventually spills over onto the pages in hot sex scenes. However, the secondary characters in the hero's father and his future bride are despicable, so it was understandable why Cameron was so against marriage.
"Don't do that," Violet said, frustrated beyond measure. "Don't use that schoolmaster tone with me as if I'm too stupid to know what I'm talking about. You're not facing what's right in front of you. I know you care about me. You care about me much more than you want to admit. I can't go on pretending to be engaged to you when all I want is for it to be for real."
Violet is strong and brave. It isn't easy for her to trust men, but Cameron is the exception because they've known each other for so long. She needed someone to talk to about what happened to her in the past, and he's a good listener. He helps her to move on from the horrible incident in her past; an incident she's never talked about because she was ashamed of her vulnerability. While Cameron, he's hard-working, confident and protective. He's done well for himself, and his job sounds impressive. So, I could understand why he needs Violet to protect him from the unwanted advances of his client's wife. Since having the heroine act as his fake girlfriend would keep him from losing out on a great business deal.
Overall, this was a really good book with an ending that had me smiling from the moment Cameron realized what he wanted for his future and how he was going to make it happen. His words to Violet showed he was no longer afraid of being in a serious relationship with someone. However, it was the epilogue that tied up this story perfectly, as the Drummond family celebrated some very exciting news. I would recommend Unwrapping his Convenient Fiancee by Melanie Milburne, if you enjoy the friends to lovers trope or the brother's best friend trope.
Book Info:

 October 18th, 2016 | Harlequin |
The perfect lie…
Violet Drummond can't face another office Christmas party as a singleton, but charismatic family friend Cameron McKinnon seems like the perfectly platonic "plus one" for the festive season. Until he reveals his plan to make Violet his convenient fiancée!
Wealthy architect Cameron sees this charade as the perfect escape hatch from the unwelcome attention of an important client's wife, but soon fake feelings shift to real attraction…
There's only one thing Cameron wants to unwrap on Christmas morning—the staid suit from Violet's lush body—and he's willing to push the boundaries of their agreement to accommodate his growing desire…