Up In Flames: Body Heat\Caught in the Act by Lori Foster: – both are reissues. This reader had not yet read either so I am unable to comment on content changes. However, I did not notice anything that dated either story.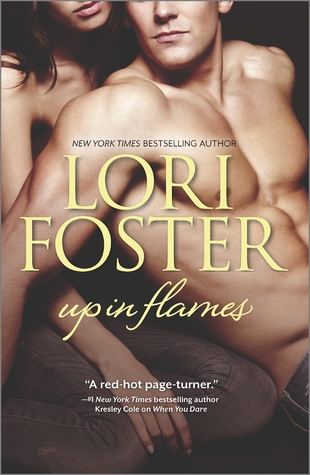 In Body Heat, Adam Stone is about to finalize the deal of his lifetime and secure his family's future. Surrounded by half-naked woman and it is the elusive woman leaning against the yacht railing that gains his attention. He makes the decision to approach her only to discover she is familiar – very familiar. They grew up in the same hometown of Brockton, Ohio. However, they came from two VERY different social positions. While Melanie Tucker's family was the richest family in town; his was the poorest. It had not mattered to Adam; he had coveted what Melanie processed and that obsession had extended to later include her.
Melanie lived a privileged, yet isolated, life. Growing up in a wealthy family ensured that Melanie never wanted for anything, yet she was jealous of Adam and his ability to form lasting relationships (family & friends). Breaking off her engagement to the 'perfect husband' due to his dwindling interest, she yearned to be loved completely.
Tossed overboard during a storm leaves them stranded on a deserted island. It is the perfect backdrop for a reunion love story. The author made the characters seem realistic by generating circumstances that exposed their strengths, vulnerabilities, and underlining emotions. The banter kept the story light and made the adventure fun.
FYI – Flynn Ryder that is introduced during this story – is the hero of Slow Burn by Elda Minger. Unfortunately, Adam's brother Kyle Stone's story was never written. He would have made an interesting character.
Caught in the Act begins with best friends Mick Dawson, Josh Marshall and Zack Grange sitting in their favorite Italian restaurant, Marco's, discussing women. However, Mick is not really interested in the conversion he is waiting for a particular woman to pass by the restaurant's window – just like the past couple of days. It is rather stalkerish, but he is determined to meet this intriguing woman. The opportunity finally presents itself when he sees her enter the jewelry store across the street. Instead of an introduction he interrupts a robbery and gets shot.
Delilah Piper was a quirky character…and all of her oddities kept the story light. I love how she can twist Mick, the control freak, into a crazed possessive wreck.
This is a suspenseful little tale, with a couple of twists. The secondary characters were critical to the story and I have put their stories on my TBR.
Book Info:

Publication: May 27th 2014 by Harlequin HQN
Body Heat
The last person Melanie Tucker wants to find herself trapped with on a party boat is her nemesis, Adam Stone. As always, he's too smooth…and a bit too sexy for comfort. But when they both fall overboard—and wind up stranded together—Melanie just can't resist all the delicious body heat smoldering between them….
Caught in the Act
When a robbery goes bad, undercover cop Mick Dawson can't believe Delilah Piper (aka mystery writer Lela DeBraye) was just in the wrong place at the wrong time—and neither do the perps. The only way to protect her while he investigates what really happened is to stick with her 24/7—and try not to fall for the object of his investigation!