In Vampire Most Wanted (Argeneau #20) by Lynsay Sands, Basha Argeneau, aka Madam Divine, has spent a couple thousand years hiding from her Uncle Lucian in fear he will take her and her son's life. So when Divine finds out one of her uncle's spies is working at the carnival with her, she's ready to go on the run yet again. But from the first moment Divine comes into contact with Marcus, she rethinks her plan to escape. She's thinking of staying and fighting for her right to have love in her life and settle down for the first time in, well, ever. As Divine grows more attached to Marcus, however, she uncovers lies from her past that may change everything she's ever known.
'She suspected he wouldn't want her for a life mate if he knew who she was, and Divine couldn't help thinking how ironic it was that after more than twenty-seven hundred years she met her life mate and he was the enemy.'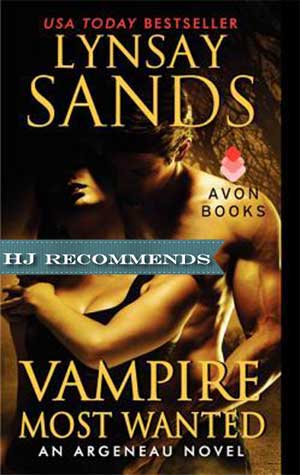 Marcus Notte took the job of locating Basha to help Lucian and to prove himself useful again. He finally locates who he believes just might be the long-lost relative Lucian has been looking for. But after his first meeting with Divine, Marcus hopes he's wrong. She's stunning, caring, and someone he finds himself craving more time with. This further complicates an already intense and complex situation. Marcus has to find a way to prove Divine isn't the rogue everyone thinks she is so they can hopefully build a life together.
'She would be his reason for rising in the morning and she would be why he went to bed at night at peace with his world…so long as she wasn't Basha Argeneau.'
How can book twenty in a series seems so fresh and vibrant? I have no idea how Lynsay Sands does it, but that's exactly what Vampire Most Wanted is. Now, even though the world she has created is complicated, I think this story can be read as a standalone easily enough. Although I have a feeling you'll want to check out the rest of this series after meeting our protagonists.
Marcus and Basha/Divine are quite the interesting couple. I loved how Marcus turned out to be so thoughtful, taking care of everyone…especially Basha…even though he had intended to bring her back to her uncle for potentially being rogue. Marcus had quite the sense of humor and was able to help Basha finally have a bit of fun in her life, which was wonderful to read about. My favorite part was when they had their "play evening" and got to act like teenagers, having fun at the carnival, taking in all the rides and playing games. Such a sweet moment in their growing relationship!
I couldn't help but kind of look up to Basha for staying relatively grounded and turning into a caregiver of sorts (just like Marcus) even though she suffered greatly as a child. There were moments when she had to be ruthless and was quite the badass, but she really just longed to settle down and have a true home. Her strength was incredible and I'm glad that Marcus was as awed by it as I was reading her story.
I truly hope all of you paranormal romance fans will check out Vampire Most Wanted. It's intriguing, complex, and sexy as all get-out.
Book Info:

Published February 18th 2014 by Avon | Argeneau #20
For Basha Argeneau, anything is better than facing her estranged family. Even hiding out in sweltering southern California. But when a sexy immortal in black shows up determined to bring her back to the clan, she'll do anything to keep far, far away from the past she can't outrun.
Marcus Notte isn't here to play games—especially not with someone as crazy as the infamous blonde. Asked by Lucian Argeneau to bring her back for questioning, Marcus is determined to carry out Lucian's request—no matter how the seductive little mind-reading vamp feels about it.
Basha doesn't mind fighting fire with fire, especially with a hot immortal involved. But if he wants to take her away, he'll have to catch her first . . .