In Vampire Trouble (Dead In The City #2) by Sara Humphreys, Sentry Shane Quesada has spent centuries protecting his fellow vampires from any and every threat thrown their way. He is known as one of the fastest and deadliest vamps in existence. So when Shane is brought to his knees emotionally by a young vampire, a sassy blonde named Maya, no one was more surprised than him. He never dreamed he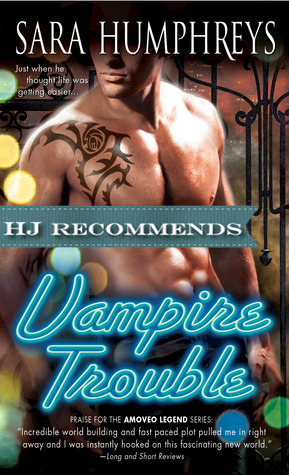 would ever find a mate or fall in love. And now his feisty vamp has him busy trying to keep her out of trouble…and out of harm's way.
"My one priority for the rest of my existence will be to see to your happiness…and pleasure."
Maya Robertson doesn't want anyone's help. And she certainly doesn't want anyone to babysit her. But that's what happens when her maker Olivia sends hunky Shane to watch over Maya when a new threat surfaces in NYC. She can't explain her attraction to the unsmiling sentry any more than she can figure out what happened in her mortal past. So when she tangles with some werewolves and finds herself in a bind, Maya doesn't want to be beholden to Shane for help. Only, once they begin to understand each other, she's more afraid of losing her heart than she is fighting with her enemies.
Shane ran his thumb over her plump bottom lip and whispered, "You can't avoid me forever."
"Sure I can." Maya stepped back and glanced toward the street. "I'm immortal. I've got nothing but time."
Action and conflicted emotions abound in Vampire Trouble, the second book in the Dead In The City paranormal series by Sara Humphreys.
I've read some of Ms. Humphreys' Amoveo Legend series, which is part of the same world as this series, and really enjoyed the easy flow to her writing style. The characters this time around are just as well rounded and complete, and the dialogue fit the scenes perfectly. I also liked that there was such a feeling of family between the vampires. A good portion of the paranormals I've read in the past have vampires portrayed as somewhat arrogant or standoffish, mainly living a solitary life. But Maya, Olivia, Trixie and the rest of the crew had a close bond that was wonderful to read about.
Maya was a fun character to get to know, but was certainly very different from Shane. As a "youngling" she was still somewhat learning the ropes and had the attitude of a bratty, rebellious teenager. Shane on the other hand was about four hundred years old and was a warrior. Very stoic and unemotional. When paired together, these two had explosive chemistry and also had a cute, almost comical edge as a couple. I loved Maya jokingly referring to Shane as an old man. And Shane's about-face in his stance on falling in love was so sigh-worthy. Gotta love those alpha men. Or alpha vamps, as the case may be.
I would definitely recommend Vampire Trouble if you enjoy hot paranormal romance. The characters are engaging, the plot unique, and you should be able to read this as a standalone easily.
Book Info:
4.5 Stars HJ Recommends No Michele H
Published July 1st 2014 by Sourcebooks Casablanca | (Dead In The City #2)
Shane Quesada, a four-century old vampire sentry, is known for cold, unemotional precision when hunting rogue vampires.
Maya Robertson is a youngling vampire who will not be controlled—and to prove it, she rejects Shane's protection—only to find herself in over her head with an alpha werewolf.
Soon, a war between the coven and the werewolf clan ignites, and Maya and Shane flee to Louisiana, where their passion for each other grows—as does Maya's power. When she finds herself at the center of the conflict, will she finally trust Shane with her life—and her heart?