In Vengeful Love: Black Diamonds by Laura Carter, Scarlett Heath hopes that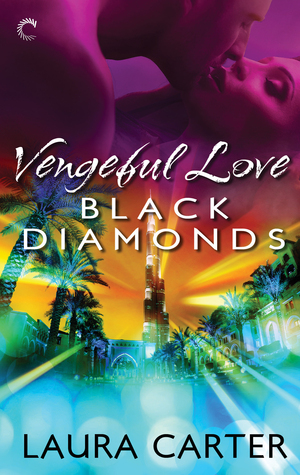 time away from her boyfriend may just give him the kick he needs to realize they belong together. However, Gregory's efforts to save her from the trouble caused by the hostile takeover of his father's company comes back to bite them both. Is their love strong enough for them to come out on top against their enemies? Or will a dangerous secret from the past; a secret Gregory isn't privy to cause them to lose everything?
"I really hope those are happy tears," he says when we part.
"I love you to Pluto and back, Gregory Ryans."
"Isn't it to the moon and back?"
"You're really going to comment on me muddling a saying?"
Out of all three books in this series, this third and final one was the best. As Gregory finally opens up to Scarlett about his past, some of the decisions Gregory has made or make come back to haunt him, and of course, the suspense that occurs that puts Scarlett's life in danger. Since someone is determined to bring Gregory down by any means necessary, whether it's personally or professionally. Right from the beginning, this book was fast-paced and entertaining. Scarlett is struggling with the direction her life has taken, having been separated by those she loves. However, I thought that some alone time was good for her. It gave her a chance to make some decisions about her love life and her career. Would she return home to work things out with Gregory, or would he come after her?
Again, the dialogue was intense — just as it was in the first two books of this series — due to the things Gregory reveals about his past, and the trouble Gregory has bought into their lives because of some poor decisions he's made. However, there were some light-hearted moments, as three couples find their happy ever after. A happy ever after they all deserve after everything they've been through. But the parts of the dialogue I enjoyed the most were where Gregory kept messing up his sayings. Those moments had me smiling or laughing.
He scrunched his face. "I fill up from my nose."
Giggling, I ask, "Does that really make sense to you?"
"Sure. You fill your nose first, so your stomach doesn't get as full."
"Poor baby. It's toes. You fill up from your toes."
He leans his head to one side, turning the words in his mind. "Maybe that makes more sense."
Both the main characters were compelling, and I was glad that Scarlett's best friend finally started to give Gregory a chance. Up until this book, she didn't have a high opinion of him, and wasn't afraid to express how much she didn't think he was good for Scarlett. Yet, I liked that Gregory managed to win her over because he truly loves Scarlett and would do anything to make her happy.
Scarlett is strong and brave. Both she and Gregory go through a lot in this story, as they fight to stay ahead of their enemies. However, it isn't easy, especially with the Ryans family secret. A secret that could prove deadly, if not for Scarlett's quick thinking when it came to the person it had to do with. While Gregory, he's determined to prove to Scarlett how much he loves her by revealing his past. A past that brought tears to my eyes, not only for all that he as well as his mother and sister suffered at the hands of their father, but how the guilt that he was powerless to stop it chips away at him. I finally found I could understand why he was so closed off and protective of those he cares deeply for.
The sex scenes were scorching and fan-your-face hot, although I thought there were too many of them. Yet, in this book, I found I wasn't all that annoyed that there were so many of them. Because it was the suspense of the story that made me eager to get to the end, to discover how everything would turn out for Scarlett and Gregory.
Overall, I really liked this book. It was an intriguing end to this series, which ended nicely with Gregory's surprise to Scarlett because he wanted her to be his as soon as possible after everything they went through. I would recommend Vengeful Love: Black Diamonds by Laura Carter, if you enjoy romantic suspense mixed with plenty of steamy romance.
Book Info:

Publication: May 16th, 2016 | Carina Press | Vengeful Love #3
I loved him with all of me.
It wasn't enough.
Gregory Ryans was everything I wanted, but he didn't trust me with the truth.
When I walked away from him, I should have known Gregory would follow. For a man like him, walking away—no matter the odds—is never an option.
He's come to offer me the deal of a lifetime: his heart. All his secrets. Him. Forever.
But at what cost?
The past refuses to stay buried. There are things about his family, dangerous things even Gregory didn't know.
This time, we'll have to fight together to save what we've built. To show our enemies that love like ours can't be destroyed.
I believe that.
Does he?