Vicious Cycle Vicious Cycle #1 by Katie Ashley: Deacon loves his life with the Raiders, a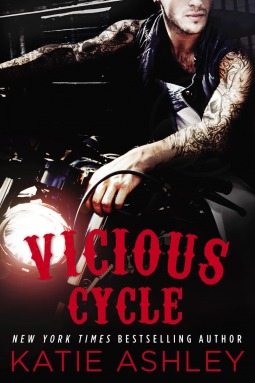 motorcycle club. The club is his family and he would do anything for another member. He was once in love, but he was forced into leaving her behind. So, he is very surprised when Willow, the daughter he never knew he had, lands on his doorstep five years later. Willow clearly resembles her father, but she's been traumatized and doesn't speak.
Alexandra is a kindergarten teacher who lost her parents a few years ago. She's very close to her aunt and uncle who stepped in to take care of her and her younger brother. When Willow first enrolled at school, they immediately bonded. Through Willow, Alex is drawn into the Raiders' world. Due to club business, Deacon and the other members are reluctant to allow an outsider access, but Willow comes out of her shell and acts more like her age around Alex. Deacon doesn't know how to be a father, but Alex is a great influence and helps him along.
Knowing he expected a rise out of me his mention of strippers, I merely replied, "Aren't you the Donald Trump of Eastman?"

With a shake of his head, Deacon gave a bark of a laugh. "You know, I might actually be able to tolerate you, Miss Evans."
Club business and rivalries include a vicious cycle of revenge and payback. Deacon and the Raiders are put in a new position when Willow and Alex are drawn into this cycle. There is a period of adjustment for Alex. The longer that Alex was around Deacon and the Raiders, the more she seemed to come into her own and really challenge Deacon within their relationship. It's clear that they are attracted to each other, but Deacon is convinced that Alex deserves better than him. I loved when Alex took deliberate steps to make a point to Deacon.
"But you have my word that with everything I have in me you'll never be hurt again."

"Are you sure you can promise that, Jesse James?" When I opened my mouth to protest, she shook her herd. "You're an outlaw. You and your club live by a different code that I can't even begin to understand."
Vicious Cycle is a opposites attract romance set within a motorcycle club. Katie Ashley provides strong female characters in Alex, Kim, and Mama Beth. Ms. Ashley also worked in unexpected ties between aspects of the storyline and connections between the main and secondary characters. Willow is an adorable, girly-girl and a great counterpart for the rough and tumble Deacon. Some readers may have difficulty with part of Alex's history. Fans of MC books and Kristen Ashley will enjoy Vicious Cycle.
Book Info:

Publication: June 2nd 2015 | NAL Trade | Vicious Cycle #1
New York Times bestselling author Katie Ashley revs up the danger and sexual tension in her brand-new Vicious Cycle romance series.
Deacon Malloy's life is dedicated to the Hell's Raiders motorcycle club. Tough, hard, and fast with his fists, he serves the group as sergeant at arms. But his devil-may-care approach to life is thrown for a loop when the five-year-old daughter he never knew existed lands on the club steps.
Alexandra Evans is devoted to all her students—but there's always been something about Willow Malloy that tugs at her heart. There's an aura of sadness about her, a girl in need of all the love Alexandra can give. When Willow stops coming to school, Alexandra's search leads to a clubhouse full of bikers…and a father hell-bent on keeping his daughter always within sight.
The moment Deacon sees Alexandra, he has to have her in his bed—and he's never met a woman yet who couldn't be persuaded. No matter how attracted she is to Deacon, Alexandra refuses to be just another conquest. But it's Deacon himself who could be seduced—into a brighter future for himself, his daughter, and the woman he's falling for against all odds.