In Victorious (Quantum Trilogy #3) by M.S. Force, Overcoming a horrifically violent event in her past has made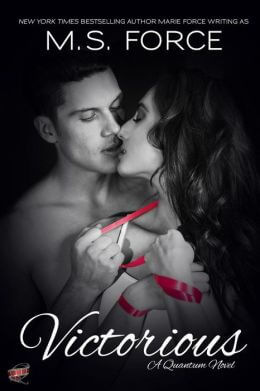 Natalie Bryant into the honest and caring person she is today. She's still reeling over the fact that the man she trusts most, Flynn Godfrey, has been keeping his sexual dominance a secret since they began their whirlwind courtship. Natalie expected him to keep his promise of honesty and isn't sure if this is something they can recover from. But as she understands more about the reasons why Flynn held that part of himself back, and what the lifestyle entails, she wonders if it might be something she'd like to explore with him.
"I want to know you, Flynn. I want to know all of you, even the parts you think will scare or unsettle me. I want everything with you."
Caressing my cheek, he says, "You've already had more of me — more of the parts that truly matter — than anyone else ever has."
"Then give me the rest, too."
Flynn might be a movie superstar capable of getting anything he wants, but he can't change the fact that he lied to his beloved Natalie. There were many reasons not to tell her about his dominance. But Flynn should have trusted that she would be as open-minded about it as she has been about everything else in his crazy life so far. All he knows is that if he can make things right, he will never do or let anything harm Natalie ever again. And if, by chance, she decides to try his world for a while, he will make sure every single desire and fantasy come true for the beautiful love of his life.
'Her trust in me is the most powerful aphrodisiac I've ever experienced. Nothing has ever been a greater turn-on than knowing this woman, who has every reason to trust no one, trusts me with her life, her pleasure, her happiness, her well-being.'
Things got spectacularly hot & steamy in Victorious, the third and final book in the Quantum Trilogy. After Natalie learned the truth about Flynn's dominance, this was the turbulent, but very pleasing, outcome.
Hot, hot hot!! M.S. Force created some intense scenes in the previous two novels, all with a racy erotic edge. This installment in the trilogy didn't just flirt with erotica, it embraced the kink, the BDSM, and the Dom/sub relationship in a pretty big way. And the best part? Flynn and Natalie didn't lose that wonderful tenderness they shared between them. If anything, I think finally getting Flynn's preferences in the bedroom out in the open was the catalyst to help fulfill both their wants and desires. I really loved that it was that final piece that was missing that ended up cementing their relationship for good.
Although the biggest part of the book was spent exploring Flynn and Natalie's foray into a Dom/sub relationship, there still was a subplot that held my interest. The ongoing issue with Natalie's past and recent tragic events related to it came to a conclusion, plus both her and Flynn's family and friends were still part of the storyline. I was thankful to see her beloved senior dog Fluff still creating mischief and was a hoot in many scenes. And I liked that even though a lot of this was set in Hollywood, it was mainly about love, friendship and family. Not all the superstar hoopla. That down-to-earth feeling made this much more enjoyable and realistic for me.
The conclusion to Natalie and Flynn's epic love story was about as good as it gets. The heartbreak, the drama, the secrets and the tears were all worth it in the end to see two stunningly genuine people get their very own HEA.
Book Info:

Published April 28th 2015 by HTJB, Inc | (Quantum Trilogy #3)
New York Times bestselling author Marie Force writing as M.S. Force…
He's a sexual dominant. She's sworn off sex. There's no way they can make a relationship work—or can they?
After surviving a traumatic event at age fifteen and the ensuing estrangement from her family, Natalie Bryant has worked for years to reinvent herself into the woman she is today—a happy teacher fresh out of college and enjoying her first winter in New York City with her faithful dog, Fluff, by her side. Natalie isn't expecting her life to change completely during a routine stroll through Greenwich Village on a blustery January day. But when Fluff breaks loose and charges into a park, Natalie gives chase and crashes into her destiny. Only after Fluff bites and draws blood from the man who accidentally knocked Natalie down does she realize Fluff has bitten the biggest movie star in the world.
He has no business being enthralled by the gorgeous, young, innocent teacher…
Natalie captivates Flynn Godfrey from the first moment their eyes meet while she is lying on the ground and he's fighting off her ferocious little beast of a dog. The only thing Flynn knows for certain is if he lets Natalie get away, he'll regret it for the rest of his life. After only a short time in her presence, Flynn is prepared to change who he is to be what she needs. He knows he's in big trouble when she says she won't sleep with him and he doesn't care if it means he gets to keep her in his life. But can he turn his back on the lifestyle that has defined him? Can he deny the desires that drive him to give Natalie the introduction to love and romance she so deserves? And most of all, can he keep his truth hidden from her long enough to have forever with her?
Join Flynn and Natalie as their story unfolds in three full-length books released three weeks in a row: VIRTUOUS, VALOROUS and VICTORIOUS. From New York to Los Angeles, from Hollywood to Las Vegas, Flynn and Natalie's whirlwind love affair has it all—romance, passion, steamy hot sex, relentless paparazzi and a murder that could be their undoing.
If you hate dirty-talking heroes who put it all on the line for the women they love, who leave no desire unfulfilled, who will do anything it takes to protect what's theirs…If elements of BDSM make you queasy, if smoking hot sex isn't your thing, if cliffhangers make you rage, if you hate first-person points of view from the heroine AND the hero… this trilogy is NOT for you! You've been warned…