Vipers Rule by Stephanie Tyler: Tals had a difficult childhood, but finding Maddie was a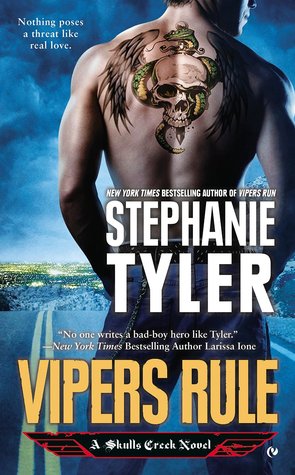 bright spot in high school. While Maddie seemed off limits due to her wealthy family, he recognized her. They had an intense connection, but Maddie's determination to leave Skulls Creek along with other events meant they never stood a chance.
When Maddie returns to Skulls Creek after pursuing the life she thought she wanted and leaving her no good cheating husband, she's determined to pursue Tals. She's never forgotten the bad boy who was nothing but good to her even if she caused him nothing but pain. She begins to pursue Tals in the same way that he pursued her back in high school. When she begins to question the wisdom in trying again, they learn that she's in danger.
"I've lived a lot, Maddie. MC, military, not counting the early years. And I've seen too many things not to take a stand, no matter what the cost. And trust me, there's always a cost."
"And you bear that burden because of me."
Tals is incredibly loyal and protective of those he cares about, so he immediately takes steps to protect her, whether she wants his help or not. His protection also means that they have more time to re-learn each other, work through the past, and give in to the connection that's still there. Things are certainly different since Maddie is older and more sure of herself.
"So what am I supposed to do?"
"Stand there and look pretty?" he suggested, and when she turned around, scanning the open surface, he asked, "What are you doing?"
"Looking for something heavy enough to throw at you."
"Check the cabinets," Tals advised. "And let me know when to duck."
Vipers Rule is a sexy, MC, second chance romance for the good little rich girl and the boy from the wrong part of town. Vipers Rule can be read as a standalone. While Maddie wasn't my favorite character, I did enjoy the banter between her and Tals. Stephanie Tyler worked in moments that were lighter or sexy to balance out the danger and drama. Ms. Tyler created an interesting set of characters in the Vipers MC family along with interesting secondary storylines. Fans of MC books will enjoy Vipers Rule!
Book Info:

Publication: July 7th 2015 | Signet | Skulls Creek #2
From the New York Times bestselling author of Vipers Run, here is the latest Skulls Creek novel, starring the outlaws of the Vipers Motorcycle Club and the women in need of their protection—and love.…
Even though he's no longer a U.S. soldier, Talon "Tals" Garrity hasn't lost his desire for living on the edge. As the enforcer for the Vipers Motorcycle Club, the eternal bad boy is always getting into trouble—especially with the ladies, who can't seem to resist him. But when Maddie Wells returns to Skulls Creek, he's shocked that she can't seem to keep her hands off him either. Good thing Tals doesn't mind playing with fire.
Growing up with her family's prestigious name and money, Maddie could never indulge a bad-boy biker like Tals. Now that she's back, she finds herself irresistibly drawn to him. But if Maddie ends up getting what she wants, they might both be sorry. Because some very dangerous men are hot on her trail—and Tals and his MC will have to put their lives on the line to protect her.…