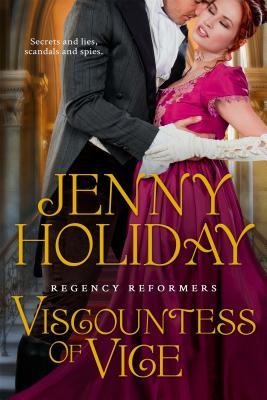 Viscountess of Vice by Jenny Holiday: This is the third story in Jenny Holiday's captivating Regency Reformer's series (though chronologically it happens first, and all three of the stories can be read as standalones), and tells the tale of Catharine and James. Catharine is a widow, her husband having died in the war and leaving her with enough means to live a comfortable (if a trifle boring) life. She has her dalliances with younger men, but when she's given the opportunity to help a friend of her husband's with his spying efforts, she jumps at the chance to do something good for her country and break her out of her ennui. Posing
as a courtesan at a high end brothel definitely tips the scales of excitement, though she is carefully masked and coiffured and deals only in conversation, not being willing to go further. But then she meets James, a bookish (but wickedly handsome) reformer on a mission to determine what brings women to this profession. He'd never enter such an establishment otherwise, but he is drawn to "Lady V" as she's known, and conversation is exactly what he's looking for, to help his research. Neither expects that they will have an immediate attraction to each other. James is confused by Lady V – the idea of a society woman playing at being a prostitute and using it for her amusement doesn't quite jive with what he sees of her. But Catharine can't reveal her mission, though she does find herself eventually in a compromising position with James, where she is unmasked, both physically and emotionally. As they draw closer though, treachery is afoot, and they both get caught in a web of lies and deceit as the man suspected of being a traitor to England discovers he's under watch. Will they get their happy ending?
To date each of the stories in this series have been delightful romps and while the first two had more of a comedic vibe to them, this one was of a more serious nature. Catharine's character at the start is one of a woman bored with her current life in society. She's a bit scandalous, taking lovers at will but because of her title and wealth (due to her late husband) she's still accepted into the drawing rooms and balls of society. When she agrees to work for the Earl of Blackstone, a spymaster who is looking for a gun-maker thought to be a traitor, the idea of being useful spurs her interest. Interestingly enough, while she has a fairly open mind towards sex, she's not willing to go that far in her position at the brothel, instead offering only conversation. She knows that the scandal if her identity became known would push her out of the drawing rooms of society. She knows of James when he introduces himself to her as she's read some of his pamphlets (much to James 's discomfort, as he'd hoped to be as anonymous as she is)- he's an activist with a society that seeks to better the fortunes of the poor, and one of her few friends (their husbands served in the army together, though he made it home while hers did not) is interested in his work. As Catharine sees the dedication James has to his cause, and finds out through her spying that the man they suspect of illegal activity is using child unpaid labour in his gunworks factory, she becomes more and more invested in the outcome of what will happen to the children. Indeed she realizes that her life in the last few years has been without real meaning, and the idea of helping those less fortunate suddenly becomes of great interest to her.
James is an interesting man too. He's normally quite reserved and quiet, though passionate about his cause to better the fortunes of the poor. This passion has been subdued in his dealings with women, until he meets Lady V. His first visit to the brothel is really quite innocent – he just wants to gather data from the women to prove his theory that they are there because poverty requires them to do whatever is necessary to survive. Meeting Lady V therefore doesn't compute – why would a highborn society lady want to prostitute herself for a lark? It throw his statistics askew. And then to be attracted to her – he definitely didn't expect that! But he sees beyond the surface that Catharine shows, and eventually they end up in bed together in some steamy scenes. All that passion lying under the surface comes out when he's with her. As James works to unravel the mystery of Catharine, she wishes she could tell him the truth but she's on a mission and she can't break her secrecy. Her feelings for James are quite genuine, as are his for her, but knowing she must deceive him breaks her heart.
I really liked the way the story unfolded, how both James and Catharine were embroiled in the case but from different angles. And I really enjoyed how they had to overcome the stereotypes and expectations of each other to let their relationship flourish. There were some great action scenes and a nice suspense thread running throughout the story, and Catherine's revelations about herself and her desires for her future really made the story for me. It was well researched too, giving some insightful and new to me information on the gun-making industry in that era. 5 stars for another very enjoyable read from Ms. Holiday.

Book Info:

Jan 25 2016 | Entangled Select Historical | Regency Reformers #3
Secrets and lies, scandals and spies.
All Lady Catharine, Viscountess Cranbrook, wants is a little excitement. Bored of playing the role of the ton's favorite slightly scandalous widow, she jumps at the chance to go undercover as a courtesan to help with an espionage mission. After all, beneath her outrageously low bodice beats the heart of a patriot.
Social reformer James Burnham is conducting a study of vice in England's capital. Driven by his own secrets, he is methodical, intelligent—and wickedly handsome. Catharine is the last sort of woman the upstanding James should want. But want her he does, though she stands for everything he opposes.
When Catharine and James are forced to band together to advance their causes, they'll be drawn into a web of secrets and lies that endangers their lives—and their hearts.