In Waiting on You (Blue Heron #3) by Kristan Higgins, Colleen O'Rourke is a lifelong Manningsport, New York, resident. She loves owning a bar with her twin brother Connor and the lively patrons she gets to visit with nightly. Colleen is known locally as a matchmaker of sorts, with several couples crediting her for their happy union. But she's lacking in the relationship department herself ever since her break up a decode ago with her high school sweetheart, Lucas Campbell.
"You broke my heart, Lucas," she said. "It was a long time ago. But I'm not dumb enough to let history repeat itself. So don't mess with me. Are we clear?"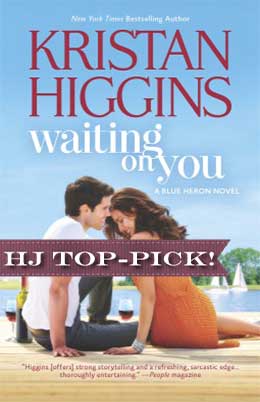 Colleen has never really recovered from losing Lucas and then subsequently finding out he got married two months after their break up. So when he shows up in town to take care of his dying uncle, the old anger and emotions come flooding back. Colleen finds out Lucas is single again. And if anything, their chemistry has only grown stronger over the yearsWith his time back in town limited, she knows it's a bad idea to get involved with her Spaniard again. But sometimes you just can't stop love from happening.
"Oh, my God, are you guys kissing?" her sister asked.
"Not quite," Lucas said, letting her go, and Colleen took a shaky step back. "Not yet."
"You slay me, Spaniard," she whispered.
"I do my best." He smiled, and that just about sealed the seal. She was in serious trouble.
Life hasn't always been a piece of cake for Lucas Campbell. With the loss of his mom early on and his father's mistakes that ended in prison, he was sent to live with his Uncle Joe, Aunt Didi and cousin Bryce. He hated to leave Southside Chicago to move to New York. But meeting Colleen certainly made up for it. Lucas resisted getting to know her as long as possible, but when they finally became a couple, he could see himself with her forever. Life, however, had other plans: A break up during college, an ill-fated marriage, and now the impending loss of his beloved uncle Joe. Lucas knows going back to Manningsport will bring up a lot of unfinished business. Mainly with Colleen. He still loves her after all these years. But will it be enough to get back in her good graces?
'The second his lips touched hers, a word came into his head, a word from long ago when his mother was still alive, when Spanish was still spoken at home. Mia. Mine. Colleen was his.'
I don't think I can say enough good things about Waiting On You. Seriously. Kristan Higgins' writing just keeps getting better and more engaging with every book I read.
He threw up his hands. "I don't know whether to strangle you or kiss you."
"Don't you dare kiss me."
He kissed her.
I have to say that Ms. Higgins makes her characters work very hard for their HEA. These are not happy, fluffy books where there is just one tiny little hiccup and then it all works out. Hers are realistic stories where, yes, bad things happen to good people, but they learn, they grow (and grow up), and get to a point where they can appreciate the good things that eventually come their way again.
Not to say that there isn't a lot of fun and humor in this story. Because there certainly is. I mean…references like "The Menopause Team" referring to Colleen's menopausal mom and friends? Hilarious! And the way she always thinks of someone and then the next thought is what their favorite drink at the bar is: in my case, Michele (vodka cranberry). Too funny. I think the humor that is infused in the story is a great way to offset the rather difficult situations our protagonists get themselves into. Just make sure that when you read this book you aren't in a quiet place. Because you will be laughing. Frequently. And getting strange looks when it turns into a snort. Just saying.
I kind of fell for Lucas fairly quickly. He was the bad boy who had a great heart and was there to save the day more than once. I liked that Colleen fell for said bad boy, her Spaniard, because she was seen as the good girl who was uber popular and did no wrong. It felt realistic for her to eventually wind up with Lucas. I was a little mad at them both for the way they handled the situation when they broke up years earlier, but I know they were young and still learning about being adults. (Still ticked me off, though!) But a love as strong as theirs can't be held back forever and they do find their way back to each other over the course of this book. *sigh*
Waiting On You is an intense, funny new novel in the Blue Heron series that I highly recommend to romance lovers. Feel free to read this as a standalone or as a part of the series. Either way, I think you will be as charmed by Colleen and Lucas as I was.
Book Info:

Published March 25th 2014 by Harlequin HQN
Does being nobody's fool mean that you're nobody's love?
Colleen O'Rourke is in love with love… just not when it comes to herself. Most nights, she can be found behind the bar at the Manningsport, New York, tavern she owns with her twin brother, doling out romantic advice to the lovelorn, mixing martinis and staying more or less happily single. See, ten years ago, Lucas Campbell, her first love, broke her heart… an experience Colleen doesn't want to have again, thanks. Since then, she's been happy with a fling here and there, some elite-level flirting and playing matchmaker to her friends.
But a family emergency has brought Lucas back to town, handsome as ever and still the only man who's ever been able to crack her defenses. Seems like maybe they've got some unfinished business waiting for them—but to find out, Colleen has to let her guard down, or risk losing a second chance with the only man she's ever loved.